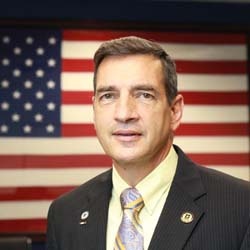 Be Focused & Have a Plan: You need to be focused on what you want to do after the military and how to achieve those goals. What do you want to do professionally? Where do you want to live? Make sure you have your transition plan in place, including your education.
It's just like going outside the wire – you need to have everything planned and double-checked before you get out into the civilian world. This may be the most important thing on this list.
Stay Motivated: It's easy to allow yourself to feel down about leaving the military, even to the point of experiencing anxiety. If the military is all you've ever known, then it's going to be a tough transition – but you can do it. Learn from the past, stay in the present, and stay focused on the future. This is the mindset that will keep you motivated.
Practice Networking: Networking is one of the most important things you can do as you prepare for your transition. Network with people you know because you know a lot of people who have successfully made the transition before – and you'll likely be surprised at the size of your network. You're even welcome to contact me – I will absolutely help!
Show Confidence: Transitioning service members bring a lot to the table. You may think you don't know a lot about the business world, but you're much more knowledgeable than you may think. The leadership skills you have are especially important, and your civilian counterparts will expect you to be a leader.
I've had many organizations ask me to present leadership seminars for their employees because civilian leaders know that the U.S. military is the most dynamic leadership laboratory in the world.
Get focused, stay motivated, network as much as you can, and show confidence in everything you do. When these four things come together, you put yourself in the best position to have a successful transition.
If you're interested in learning more about how to best prepare for your military-to-civilian transition, watch the webinar I recently presented, "Transitioning from the Military" and visit the Trident Military Assistance Center.
Philip F. Johndrow is a 33-year veteran of the United States Army, retiring as the Command Sergeant Major for the U.S. Army Combined Arms Center, Fort Leavenworth. In this capacity Johndrow also served as the Command Sergeant Major for the U.S. Army Command and General Staff College and the Senior Enlisted Advisor for the Joint Center for International Security Force Assistance. Johndrow was inducted into the The United States Army Sergeants Major Academy's Hall of Honor on August 28th, 2015. Johndrow currently serves as the Senior Director for Military and Veteran Alliances for Trident.