5 REASONS WHY THOSE WITH MILITARY EXPERIENCE SHOULD COMPLETE A DEGREE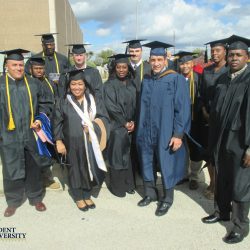 Colleges and universities are making it easier for military members and veterans to receive college degrees. A degree from Trident University International can have many advantages for military members and veterans. Here are five reasons why now is a great time for military members and veterans to get a college degree.
---
1. Military Training and Experience May Count As Academic Hours
Military training and prior coursework may count as credit toward completing a degree, which can help you save money and time. The American Council on Education (ACE) collaborates with the Department of Defense to award college credit for military training and experience. According to the 2012 ACE report, 83% of institutions that offer services for veterans and military personnel provide evaluated credit for military training, and 63% award evaluated credit for military occupational experience.
2. Increase Earning Potential
Getting a college education can help you increase earning potential. According to a New York Federal Reserve study, college graduates earn more than $20,000 more on average per year than high school graduates. Having a college degree makes you more marketable and gives you access to a greater range of higher-paying entry and advanced-level positions.
3. Job Stability
College graduates experience lower unemployment rates than those with a high school diploma or less. In fact, a college degree cuts the unemployment rate in half: According to the Bureau of Labor Statistics, in February of 2013 the unemployment rate for college graduates was 3.8%, compared with 7.9% among high school graduates and 11.2% among those who didn't complete high school.
According to CollegeAtlas.Org, "During a recession, the unemployment rate among college graduates is substantially lower than the unemployment rate among employees with only a high school diploma."
4. Colleges Will Help You
According to Military Times, "Half [of schools] waive interest, advance credit toward books and other expenses, or help students find emergency money…[and half also] have special rules in place to give service members in-state tuition. About six in 10 schools have a veteran's office on campus."
5. Financial Assistance
A number of financial assistance programs are available to help veterans pay for the cost of attaining a degree-namely, The GI Bill® (GI Bill is a registered trademark of the U.S. Department of Veterans Affairs). According to Military.com, the term GI Bill® refers to any Department of Veterans Affairs education benefit earned by members of Active Duty, Selected Reserve and National Guard Armed Forces and their families. The benefit is designed to help service members and eligible veterans cover the costs associated with getting an education or training. The GI Bill® may cover the full cost of tuition as well as fees and book and housing allowances.
According to the U.S. Veterans Administration, the number of veterans or dependents using GI education benefits has skyrocketed in recent years.
2008 — 541,439
2009 — 564,487
2010 — 800,369
2011 — 923,836
2012 — 945,052
With all of these benefits that can last a lifetime, getting a college degree can be a great option for military members and veterans. If you are considering a degree, check out Trident University's Military Education Grant, military friendly programs, and VA services for active duty military and veterans.