5 WAYS TO SUCCEED AS A PH.D. STUDENT IN THE COLLEGE OF HEALTH SCIENCES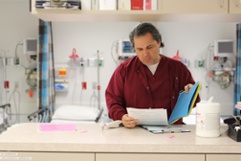 Are you contemplating a Ph.D. in Health Sciences? If so, you'll need to understand the landscape and what to expect from a doctoral program. Good preparation is key – and it will set you up for success in the long run. Key factors like research skills and desire will help you guide yourself way through a successful Ph.D. program.
Here are five qualities that contribute to student success in Trident's Ph.D. in Health Sciences program.
---
1. Research
One of the first things you should do before starting a Ph.D. program is research your options. Make sure your interests are in line with post-doctorate career options and make sure that companies are interested in pursuing someone with those specific skills.
2. Desire
During the research phase figure out what areas you are passionate about. Do the topics interest you enough to want to become an expert in them? Are you enthusiastic about learning more? If not, then the subject area may not be the right choice for you.
3. Experience
Do you have enough professional experience and research experience to be successful in this field? Experience will not only let you know whether you are in a field you are passionate about, but it is key to giving you the skills necessary to be successful.
4. Strategy
Strategically approach your Ph.D. research from the first day of the program.  For example, tailor literature review during didactic course work so that it feeds into dissertation for timely completion of the Ph.D.
5. Knowledge
The health sciences field is constantly expanding with new knowledge. The most successful students are those who are proactive in their own learning and their profession, allowing them to adopt the mindset of being a life-long learner both as a student and as a professional.
Learn more about Trident's Ph.D. in Health Sciences.