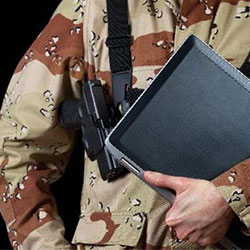 As more troops are cut, families can find comfort in educational opportunities like military tuition assistance.
As the Army continues to address reductions in personnel, impacted families can find comfort in educational opportunities.
As the Army continues on its mission to reduce spending and address DOD mandated reductions in personnel to a total of 440,000 to 450,000 soldiers by the end of the 2015 fiscal year, the uncertainty of the future may be a cause of anxiety for some servicemembers. This nervousness is certainly understandable – according to Army Times, in the past year the Army has been reduced to 496,079 members, down 23,700 from last year. Tens of thousands more troops are planned to be cut by 2019.
According to small surveys conducted by First Command Financial Services, a financial planning company dedicated to helping servicemembers and federal employees achieve financial security, more than one in three middle-class Army families worried the jobs they rely on may be cut. That number represents an increase from one in four such families who worried about job security last summer.
The good news is the unemployment rate is currently at 5.5%, the lowest in seven years. Even better news, service members who spent more than 90 days on active duty after September 10, 2001 and were honorably discharged are entitled to post-9/11 GI Bill® (GI Bill is a registered trademark of the U.S. Department of Veterans Affairs) tuition assistance that will provide them with significant funding to pursue the education they need to establish the civilian career they desire.
Since the post-9/11 GI Bill® went into effect in 2009, the United States has spent more than $42 billion to help fund the education of those who received these benefits. Slightly more than half of those who took advantage of military tuition assistance from 2002-2010 graduated with a college degree or certificate. The number of Active-duty servicemembers and veterans members enrolling in college is expected to rise even more as the Army continues to approach its DoD mandated drawdown goal.
As Tom Tarantino, Policy Manager at Twitter and former Chief Policy Officer of the Iraq and Afghanistan Veterans of America, explained, taking advantage of military tuition assistance programs isn't just smart for a service member's career. It can also help veterans to make their transition from military to civilian life less stressful and challenging. "The GI Bill® isn't a thank you for your service. What it really is, is readjustment benefit," he said. "It is giving them the opportunity to do something that is constructive for their mind and their body; that gives them a mission and allows them to move forward in life. It's a backstop so you're not walking right off the plane from combat in to the civilian world. It was designed to be a soft landing."
Servicemembers who experience anxiety regarding job security may be comforted to know these education options exist and that Trident University, like many other military-friendly online institutions, is prepared to provide any support servicemembers need to reach their goals along the way.
As more military personnel are entering the civilian workforce, many employers are also pledging to give veterans hiring preference, not only to honor their service, but because they recognize the world-class skills and character most candidates with a military background possess. In many industries, the demand for veterans is high. While the imminence of drawdown can be unsettling, when it comes to entering the civilian workforce, the future looks promising for those who served their country.
About Trident University
Founded in 1998, Trident University International (Trident) is a leading online post-secondary university serving adult learners. Trident developed the Trident Learning Model, which employs case-based learning in an online setting to teach real-world relevant critical thinking skills to enhance student's lives and careers. Trident offers high-quality bachelors, masters, and doctoral degree programs, led by a qualified faculty team, over 80% of whom have doctoral degrees. Visit www.trident.edu, Trident's Facebook page, or call at 800-579-3197 to learn more about Trident's wide range of program offerings.