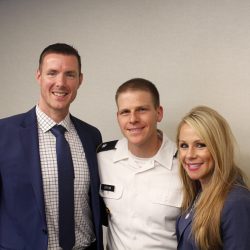 On Thursday, Centurion Military Alliance held their first Washington, DC Warrior Transition Readiness Program. Designed for individuals who are planning to transition out of the military, these day-long seminars prepare participants with the knowledge, tools, and resources needed for success as a professional in the civilian world.
While talking to CMA's founder and CEO Jarod Myers (pictured, far left), it quickly became clear how passionate he is about helping men and women of the military. It's not just that Myers is also a veteran himself, it's that he clearly understands that success as a civilian isn't just about hard work - it's also about having a strategy that is unique to that individual.
"Each transition is like a fingerprint. It is unique to you and your situation - and it needs to be treated as such," Myers stressed.
On hand as well was another member of CMA's executive team, Chaunte Hall (pictured, far right), who serves as Chief Operating Officer. Also a veteran, the expertise she offered to the participants of the Warrior Transition Readiness Program took into account everyone's unique journey into the civilian world.
The day's participants had the opportunity to work with other experts, including representatives from the Society for Human Resource Management (SHRM) and Farmer's Insurance. Among the advice offered throughout the day, one constant quickly became apparent - the need for a clear transition plan that starts to be implemented at least one year out. And beyond that, for a successful transition, it's important to know your strengths and how they can be utilized after your separation date.
Interested in learning more? Visit the Centurion Military Alliance's website for participant testimonials. Their next events will be on October 20th in San Antonio, TX and November 3rd in El Paso. Trident continues to be a proud supporter of CMA and the work they do for veterans and members of the military.