HAVE YOU USED TRIDENT'S NEW MOBILE APP?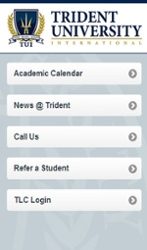 As a 100% online university, Trident reaches its students through the web, wherever they may be. Whether they be located in southern California or on the other side of the planet in South Korea, students across all age groups are increasingly using their smartphones for much more than making phone calls.
Recognizing this, Trident introduced its first mobile app earlier this year. Students are busy, often balancing a schedule that's stretched to the limit between career, family, and of course school. And to compound matters, sometimes that career involves deployments thousands of miles away. Offering a mobile app makes practical sense and goes a long way to simplifying not just the lives of students, but also of their families.
What does this app offer? Although this is just the beginning, there are a lot of cool things to use already. Users of the app are able to easily access the latest Trident news, important academic dates, and phone numbers for student services, finance, and general questions.
Additionally, users have access to a streamlined gateway to the Trident Learning Community, which is optimized for mobile use with responsive design. This is the key component because now students have the ability to access their classes and coursework across several different mobile devices.
The app has already received multiple enhancements, and Trident is actively working on some exciting new student-centric features for Version 2.0. Trident's mobile app can be downloaded from the Apple store (iPhone and iPad) and the Google Play store.
Topics: