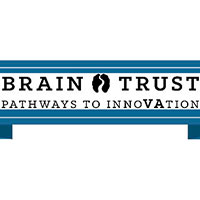 Disorders of the brain – those "unseen diseases" – affect many millions of Americans from all walks of life. The men and women of the Armed Forces are not immune, with many returning from combat with some form of mild traumatic brain injury (mTBI), Post-Traumatic Stress Disorder (PTSD), or other forms of combat exposure. These disorders are difficult to treat, with researchers working hard to fill in the missing gaps of knowledge.
Trident Ph.D. in Health Sciences student Jeffrey Nagy is one of these researchers. Nagy, who was a combat medic for the United States Army, understands these realities all too well, which is why he is in a prime position to address some of these gaps.
He had an opportunity to address some of these gaps on April 20th-21st at the "BrainTrust: Pathways to Innovation" event in Washington, DC. Sponsored by Booz Allen Hamilton, Amazon, IBM, Philips, Johnson & Johnson, Optum, Comcast NBC, GE, and First Quality, and hosted by the U.S. Department of Veterans Affairs, this event was a gathering of world-class brain health leadership and experts, which built on the leadership and innovation of a number of highly talented VA brain researchers.
Through a combination of being in the right place at the right time and shrewd use of his personal network, he leveraged his appearance at a similar event in San Francisco – which he prepared for just a few days in advance – to prepare his presentation in DC, which gave him the opportunity to showcase his research to a much larger audience, including VA Secretary McDonald and his group of experts.
With the key goal of the event being to foster debate and facilitate national, partnership-based solutions in the general areas of mTBI and PTSD, this was a perfect opportunity for the military veteran and academic researcher Nagy to showcase his work.
"It examines the military occupational group differences in combat exposure, PTSD, and functioning impairments among Iraq and Afghanistan veterans," Nagy said when asked about his dissertation. "In particular, I am addressing the question of how occupational training and mission affect the relationship between combat exposure, PTSD, and functioning impairments after veterans walk out of the Department of Defense door and transition back into American society."
As a military veteran who is a self-employed data consultant, focusing on financial and health data governance, machine learning, predictive modeling, and customer segmentation of big data, Nagy has a lot to offer to the academic community when it comes to researching combat-induced mental disorders.
"By providing military context on how one's occupation interacts within the causal pathway between combat exposure, PTSD, and functioning impairment, I hope to enable clinicians to provide a more personalized intervention and treatment approach for the care of veterans who have left military service," explained Nagy explained.
View his April 20th "Brain Trust: Pathways to Innovation" presentation at Washington, DC's National Press Club.