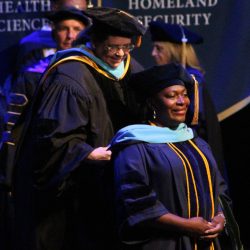 It's time to hit the books! School is back in session and you want to finish your degree. Whether you're going straight into a new program right after graduation, or you're a working professional returning to school after several years, graduation will be your reward for all of your hard work.
How soon you finish will depend on your goals and ability to manage your time.
Those who want to finish their degree quicker
Generally, bachelor's and master's level classes at Trident are offered in 8-week session formats. Some students also enroll in over-lapping sessions.
Overlapping sessions occur where you enroll in another course midway into your current course; which means that you are balancing the deadlines of courses in two different sessions. This approach requires attention to details and great time management. Another option for finishing quicker is to take two classes each session. If you wish to take even more than that, it's best to speak with your Student Success Advisor for an overview of academic expectations.
Those who fear they have too little time
There may be times that keeping up with coursework may seem overwhelming, especially when unexpected events occur in your life, but Trident does everything possible to help students succeed. The single most important thing any student can do is to prepare early. Each student receives access to their course materials one week before classes begin. This means that you can prepare yourself before classes even begin. Students who plan ahead are often able to stay ahead throughout the session. If you do run into trouble or have a military deployment scheduled, reach out to your Student Success Advisor to discuss your options.
To learn more about the path to graduation, prospective students are welcome to contact Trident's Admissions department while current students can contact their Student Success Advisor.