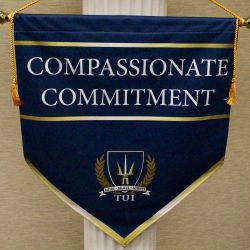 Trident isn't your typical online school. There are set deadlines for submission of assignments and postings – generally every two weeks, which gives students the ability to plan around career, military, and family commitments. Many of Trident's students find this format beneficial when it comes to balancing their full-time job, military commitments, and living in rural communities.
Although attendance isn't taken on a daily basis, students are expected to stick to deadlines and be aware of what is expected of them in each class. Since course load plays such an important role in classroom performance, here are some pointers on what to expect in classes and how to choose the best schedule each session.
For those new to online classes
It's important to understand what you are capable of. Every individual is different in terms of work-life-school balance and time management. To best prepare yourself for success, it is recommended to start off with just one course in an 8-week Fastrac session.
Upon submitting an application with Trident, students receive a Distance Education Readiness Assessment. This assessment includes questions on factors which may impact a student's success in completing online coursework. Admissions advisors work directly with students to address potential problems that may be revealed by the survey.
What to expect in courses
Generally, bachelor's and master's students can expect four modules in each course, while doctoral candidates will have six modules per course (Note: doctoral courses are only available in 12-week sessions). There are some exceptions.
Although Trident course expectations can vary, most will have a Case, session-long project (SLP), and threaded discussion. The Case and SLP are both papers students need to complete, and they can range from a research paper to reading a case study and applying theory to the workplace.
The threaded discussion requires students to respond to a prompt from the professor, as well as classmates' posts about that prompt. This is a great opportunity for students to engage with classmates and do some critical thinking on a particular topic within the context of the course content. It's recommend to submit posts within the first one to two days of the module starting, so it leaves time for classmates to respond. Thereafter, students can post replies to comments of their classmates. Out of all the assignments in each module, the threaded discussion tends to be more time sensitive as students are graded on timeliness - typically within the first 3 days of class.
Recommendation on course load
The minimum number of courses students need to be enrolled in to be considered a full-time undergraduate student is three classes over 16 weeks (or two sessions). The minimum to be full-time at the graduate level is consistently enrolling in one course per session. Determining course load comes with multiple factors: finances, time commitment, academic progress, and one's own personal timeline to graduate. Trident is unique in that the student has more power in determining how soon they wish to graduate.
Joseph Chan is an Admissions Advisor at Trident University International who works with both civilian and military students at the undergraduate and graduate levels. He holds a B.A. in Public Relations from California Baptist University, a M.Ed. in Postsecondary Administration and Student Affairs from University of Southern California, and is currently a Ph.D. in Educational Leadership candidate at Trident.