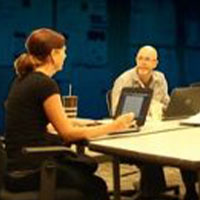 Students interested in exploring public health courses in Trident's College of Health and Human Services now have a new option: The Graduate Certificate in Public Health!
Open to students of all professional and academic backgrounds, this certificate allows students to take graduate level public health courses in a 100% online setting. As with other doctoral level coursework at Trident, courses within this certificate emphasize critical thinking and analysis skills – a must for all managers and aspiring researchers. Students currently in business or education programs are welcome to enroll!
The certificate requires 16 credit hours to be completed at Trident, and allows students to learn new skills and explore current public and global health topics.   After certificate completion, students can be admitted to either a masters or doctorate program.
Required Courses (16 Semester Credit Hours):
DHS 603 Introduction to Public Health (4)
RMS 610 Qualitative Research (4)
DIH 633 Global Epidemiology (4)
DHS 602 Health Behavior and Change (4)
The admission requirements for this certificate include:
A conferred bachelor's or master's degree in any field from a regionally or nationally accredited college or university. International students are welcome to apply.
Completion of Trident's Application for Admission (no application fee is required).
Information technology skills sufficient to participate effectively in Trident's pedagogical model, including Internet skills to conduct research effectively.
Contact us to learn more about our Graduate Certificate in Public Health, available starting in the Winter 2016 session!