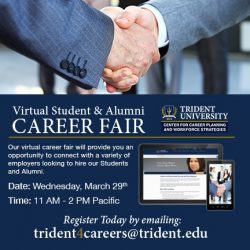 On Wednesday, March 29th we're hosting our second virtual career fair. For those of you wondering what you can expect at this event, we sat down with the Director of Trident's Center for Career Planning and Workforce Strategies, Tanya White-Earnest.
Daniel Sloan: When is the Virtual Career Fair (VCF), and how can students and alumni sign-up?
Tanya White-Earnest: The VCF will be held on Wednesday, March 29th from 10 AM to 2 PM Pacific time. Students and alumni can sign up by going to the student portal, and selecting Trident4Careers in the Tools and Links menu at the bottom of the page. They then either sign into or create their account on the Virtual Career Center (VCC) portal.
For convenience, students and alumni can use their Facebook or LinkedIn account to create a VCC account. Once they are in the system, they can select the tab market Events, and then Career Fairs where they will see the upcoming fair listed. Then for the easy part - simply click the button market RSVP and it will change to RSVP'D. They have the option of uploading a resume (highly suggested) and, finally, review their profile to make sure it is complete.
DS: For those who have not attended an all-online career fair before, what can participants expect?
TWE: Essentially the VCC is a chat session where students and alumni are able to connect directly with hiring managers and recruiters from partner companies to discuss openings, qualifications, hiring processes, the company in general, and expectations the hiring manager has for the position. It is very simple and straightforward.
When they join the session, they will see representatives of the participating companies and can submit a request to connect with any representative they are interested in speaking with. If the representative is available, they will connect, otherwise the student/alumni/ will receive a message encouraging them to check back in about 5-10 minutes. Job seekers can identify up to 10 employers they are interested in speaking with prior to the event and all links will be readily available in one convenient place for them to connect!
DS: Which employers participated in Trident's first Virtual Career Fair?
TWE: During our first career fair last August we had companies such as Xerox and CVS participate. We also had OfficeTeam and Accountemps, who both represent hundreds of major corporations, and a variety of small to medium-sized companies as well. Harris County (Texas) Sheriff's Office participated, along with our own Trident University.
DS: How will attending this career fair benefit students and alumni?
TWE: Students and alumni (and others who may choose to participate) will benefit from the ability to directly connect with hiring managers and recruiters from several companies and organizations across the nation including Conduent (a Xerox company), The National and Los Angeles offices of the Federal Bureau of Investigation (FBI), the National Forest Service, Apple One, Comcast, OfficeTeam, and Accountemps are already registered, and many more expected to participate as well.
This is your opportunity to ask questions, gain insider insight, present yourself, and know that your resume is reviewed and that you have the ability to connect with someone with the ability to present you with a job offer! Virtual Career Fairs offer many of the same benefits of an in-person career fair, such as exposure to employers, connections, and potentially an interview - without needing to dress up and leave home.
Note: Attendees of this event are not guaranteed or promised employment from any of the participating companies.