PHOTOS: OPERATION GRATITUDE WRAP-UP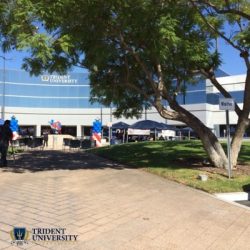 Here are some images from this past Friday's Operation Gratitude event at Trident's main office. Thank you to everyone who helped us to support the military, veterans, and first responder communities!
Trident employee & Air Force veteran Patricia Parks speaks to the crowd about the importance of military and veteran education.
Assembleywoman Young Kim thanks attendees, discusses the importance of community outreach events.
This post was prepared by Daniel Sloan and images were supplied by Trident University International staff.