Ph.D. or Ed. D.: WHICH DEGREE IS RIGHT FOR YOU?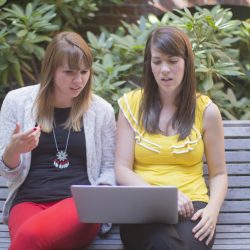 You have a distinguished career in education and your master's degree has served you well, but you crave advancement and, most importantly, a challenge. Some colleagues have suggested a Ph.D., while others have said that you'd be a perfect fit for an Ed.D. But what's the difference – and how do you decide?
Looking at the two degrees, there are some distinct differences that should make the choice clear for educational professionals. And no matter which path you decide on, Trident has the right degree for you.
A Ph.D. in Education is a research degree. If your career aspirations include tenure-track teaching positions or conducting research at the university level, then this is the degree for you. This degree almost always comes with a specialization – and will always require a dissertation completed with the guidance of a faculty advisor and a dissertation committee. At Trident, Ph.D. students work with advisors to choose their committee.
When it comes to classroom learning, most of this instruction is also research based. Your goal is to be well read in your area of study and finish the program as an expert in your field. Key learning concepts include data and research methods and curriculum development.
On the other hand, a Doctor of Education (Ed.D.) takes a more practical route to completion and is intended for those who are more entrepreneurial minded. Degree earners can teach at the university level, but often set their sights on the K-12 arena and the corporate world.
According to Eduventures and a Bureau of Labor Statistics analysis, educational services occupations are slated to grow 13% nationally. Within all educational services occupations, two segments representing the best fit for Ed.D. degree holders are projected to flourish in the near future.
Administration is often an endgame for these degree earners, and common career scenarios include creating curricula and improving education systems. Candidates for this degree often have experience in administration and teaching.
The goals of this program are based on modern teaching and management methods. Graduates should be able to develop and implement organizational strategies, draw on global educational perspectives, manage the operation of learning organizations, and promote emerging educational technologies to improve practice, among others. These experiences will help to make up their dissertation.
Which degree is the right fit for you? Trident's team of Admissions Advisors is here to help.