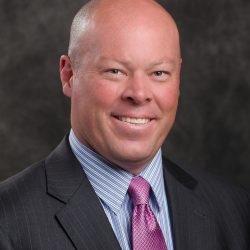 The motivation for obtaining a degree varies from person to person, but one of the keys to being a successful student is to know and understand that motivation. Upon starting his doctoral studies at Trident, Dr. Aaron Maike was already a president at Baker College's Allen Park campus, and then its Owosso campus.
In his journey to completing a Ph.D. in Business Administration not only did Dr. Maike accrue increased professional responsibilities and learn how to do his job better, he was able to set a positive example for one of the most important audiences of all.
Trident: Since you were a student at Trident, have you made moves upward in your career?
Dr. Aaron Maike: I am currently the President of Baker Colleg's Muskegon (Michigan) campus. When I started the Ph.D. program, I was the President at the Allen Park campus, a commuter campus near Detroit.
I was asked to lead the Owosso campus in 2014 during the dissertation phase of the program. The Owosso campus has one of two Baker College branded programs ADI (The Auto/Diesel Institute). The campus also has a significant residence hall population. During my time in Owosso we created a strategic plan for ADI and transitioned the program into a cohort model.
Since completing my Ph.D., I was asked to lead the Muskegon campus as President. The Muskegon campus is the largest on ground campus in the Baker College System. Additionally, the Muskegon campus has the CIM (Culinary Institute of Michigan) program. This program is located in downtown Muskegon in a state-of-the-art facility with exceptional faculty and outstanding graduates.
Additionally, after completing my Ph.D. I was recruited to be part of a leadership committee of five individuals who will lead our Higher Learning Commission re-accreditation.
Trident: Do you feel that your time as a student at Trident prepared you for your current professional role?
AM: My doctoral work at Trident absolutely prepared me for my role. Although I was a President prior to and throughout my doctoral studies, the rigorous research, writing, and coursework provided me with a stronger and expanded foundation to extrapolate and use data to interpret phenomena happening at the institution and across higher education.
Trident: Which professors had the biggest impact on you?
AM: Dr. Joshua Shackman and Dr. Indira Guzman were phenomenal. They were tough. Their expectations were extremely high. They pushed me to be a better researcher, reader, writer, and communicator.
Trident: What else would you like to share about your experience at Trident?
AM: Trident is an institution where students who want a quality education can earn a degree. They are flexible, encouraging, and helpful. It is not easy, but the rewards are immeasurable.
While I worked on my degree, it sent a clear message to my children. Education is important. They saw "dad" reading, struggling, and working through intense academic work.
I was not a stellar high school student or undergraduate student for that matter. I never really saw myself earning advanced degrees, but I am the only Ph.D. in my family and Trident helped me achieve a very necessary credential for my career as a college president.
As an educator, I always tell students earning a degree is not easy. Everyone working on a degree has wanted to quit at some point in time, but DON'T. Your dedication in achieving a college degree speaks volumes to potential employers, your family, and your friends.