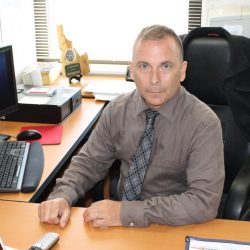 Dr. Vincent Havrilko is an Air Force civilian serving the 366th Logistics Readiness Squadron, 366th Mission Support Group, 366th Fighter Wing, Air Combat Command at Mountain Home AFB in Idaho. He served for 22 years in the Air Force, retiring as a Master Sergeant.
Dr. Havrilko completed a Ph.D. in Business Administration at Trident, as well as degrees at the master's and bachelor's levels. He is one of only nine alumni to have earned a degree at each program level from Trident.
Trident: Since you were a student at Trident, have you made moves upward in your career?
Dr. Vincent Havrilko: Prior to completing my doctorate, I was selected for an Army Assistant Transportation Officer (GS-2101-11) at Camp Casey, South Korea. Unfortunately, I had to turn the position down because my wife could not qualify for an overseas clearance due to an illness.
Trident: Do you feel that your time as a student at Trident prepared you for your current professional role?
VH: My experience with Trident, especially during my doctoral program, significantly developed my critical decision making capabilities, confidence and patience.
Trident: Did Trident respond to your needs as a military/veteran student?
VH: The faculty and staff have always been extremely supportive and understanding during and after my military service.
Trident: Which professors had the biggest impact on you?
VH: I am grateful for all the professors who taught the courses I took throughout my three degree programs, but I would like to extend special thanks to the following people for their outstanding support and encouragement:
Dr. Qin Sun (Dissertation Mentor/Associate Professor and Department Chair, Marketing, Logistics, and Operations, Glenn R. Jones College of Business)
Dr. Indira Guzman (Committee Member/Ph.D.B.A. Program Director, Glenn R. Jones College of Business)
Dr. Atefeh Yazdanparast (Committee Member/Assistant Professor of Marketing, Mead Johnson Endowed Chair in Business, Schroeder School of Business Administration, University of Evansville, Indiana)
Dr. Heidi Sato (Director of Institutional Research, Chair - IRB)
Dr. Joshua Shackman (Faculty Lead, BSBA/BSL Programs, Glenn R. Jones College of Business)
Dr. Stephen Pollard (Dean, Glenn R. Jones College of Business and College of Information Systems and Vice-Provost Academic Analytics and Student Engagement)
Dr. Stephen Fitzgerald (Director of Faculty Development, Trident)