RESEARCH SUCCESS: FACULTY & DOCTORAL STUDENTS WORKING TOGETHER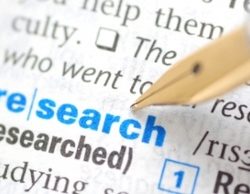 Compassionate commitment – one of Trident's two Pillars of excellence – is exhibited by its dedicated faculty and staff on a daily basis. It's not just a mindset or attitude, but it's a way of serving a student population who is focused on practical goals and transferrable skills.
Doctoral students spend more time than their bachelor's and master's counterparts interacting with faculty. While the ways that students and faculty interact may vary, academic research serves as one of the most beneficial forums for collaboration. This type of research is not only important for Trident, as it prides itself on being a research-based institution, but it's also an important way for doctoral students to develop important skills like data mining and surveying, as well as team collaboration by being paired up with members of Trident's seasoned faculty team.
Dr. Wendy Wang, who serves as a faculty lead in Trident's College of Information Systems, recently paired up with Ph.D. student Robert Schanke to conduct key academic research in their respective field. This collaboration has led to multiple presentations at the 2014 Annual Meeting of the Decision Sciences Institute, which ran from November 22-25th, 2014 in Tampa, Florida. In addition to their presentations, "The Impact of Group Cohesion Over Time" and "Impact of Engineered Labor Standards on Job Satisfaction," their paper "Impact of Mobile Technology on Individual Performance and Group Cohesion" has been accepted by this prestigious conference.
There are many similar partnerships occurring between faculty and students at Trident. Visit our blog soon again, as we will be sharing more of these with you in the near future.
Learn about Trident's Ph.D. programs and College of Information Systems.