SCHOLARLY RESEARCH IN ONLINE EDUCATIONAL LEADERSHIP PH.D. PROGRAM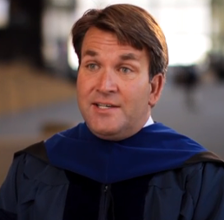 Brian Kooiman, a 2013 graduate of Trident's Ph.D. in Educational Leadership program, came to the university with over 30 years of experience as a K-12 educator and a willingness to better himself personally and professionally. On the professional level he was able to build on his skill set through collaborative scholarly research, as part of a team with three Trident professors.
According to Brian, assembling the research team was relatively simple. With manuscripts already in hand, he reached out to Dr. Wenling Li, Program Director of the Ph.D. in Educational Leadership Program, and College of Education professors Dr. Heeja Kim and Dr. Michael Wesolek, to gauge their interest in collaboration. Once the partnership came together, working the manuscripts to completion was straightforward, as Brian had the benefit of familiarity with his former professors.
The experience was beneficial for Brian as a Ph.D. student. Not only did he work with a supportive and helpful team, but he was also able to see scholarly research to fruition, which benefits him both in his current professional role and as an academic. His research was seen by a larger audience, allowing him to broaden his perspective and contribute to academic progress more broadly.
As the next chapter of his research activities, Brian is tackling technology assisted reciprocal physical activity (TARPactivities). He has applied for grants to introduce TARPactivities to the military as part of the United States Army's Ready and Resilient initiative. In a separate grant proposal, he hopes to work with TARPactivities in the form of mobile smart device use in elementary school physical education classes.
Learn more about Trident's Ph.D. in Educational Leadership.
Topics: