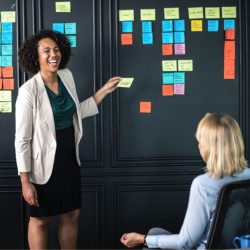 To see the advantages of earning your Master of Science in Human Resource Management (MSHRM) at Trident University, look first at the three Trident differentiators:
The EdActive™ learning approach, which is case-based learning that enhances the students' ability to think, to learn, and to solve problems. This has been proven to be a more efficient and effective learning process for the adult learner.
Flexibility enables adult learners to excel at a manageable pace. Trident's 100% online setting, combined with no daily micromanagement, promotes a comfortable learning environment
Affordability is key to Trident's overall success for our students. We keep our tuition costs as low as possible, so the students receive an excellent education at a great value.
There are resources available that students should take advantage of while enrolled in the MSHRM program. Networking with professors and department chairs will provide students with valuable knowledge in the Human Resource field. All professors in the Human Resource Management area at Trident have achieved doctoral-level degrees in their fields. They have practitioner backgrounds and have worked either in human resource departments or in positions requiring human resource management expertise.
Building a network of peers as they progress through the program will also be very advantageous to students. The Discussion Forum is a great way to build relationships with classmates.
Students can build their leadership, communications, and critical thinking skills by stepping into their assignments and taking on the role of Human Resource Management professionals. Research and analyze what authors are saying and what actual employers are doing.

Dr. Peggy Swigart, Department Chair, Glenn R. Jones College of Business, Human Resources and Criminal Justice Administration
Employers today expect applicants to be able to show skills in leadership, teamwork, communications, and problem-solving as soon as they walk in the door. Trident's MSHRM degree prepares them in these areas.