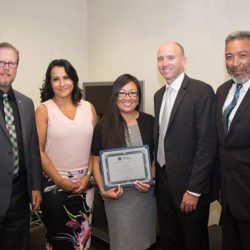 PCS, TDY, BAH, PPP, and MyCAA were all acronyms I had never heard of before getting married to my spouse, who serves in the Army. When we married, I made a quick transition to a lifestyle that had been unfamiliar to me. There were new programs and services to learn, along with a vocabulary that was foreign to me at first.
I consider myself lucky to be part of this community, as it has opened the door to many opportunities. But first, to understand why those opportunities are available, you need to understand the dynamics and underlying forces of military life.
As a military spouse, it's important to be resourceful and practical - and to build a strong support system. This is important because at any moment I could become a "single parent" if my spouse receives orders to train (TDY) or deploy. Moving (PCS) may occur every two to three years. For example, my children have attended seven different schools in the past nine years.
Being part of the military community can be like a rollercoaster - while you may have your ups and downs, in the end, it is one of the most worthwhile and satisfying experiences you'll have in life.

Karen Diaz
One of the reasons I consider myself lucky to be part of this community is that we are guaranteed a roof over our heads through Basic Allowance for Housing (BAH). A second reason is that spouses can apply for educational benefits such as Military Spouse Career Advancement Account (MyCAA), a program which provides military spouses with up to $4,000 to attain associate degrees, certificates, licenses, or certifications for workforce development programs.
Not only have these educational opportunities been beneficial to my family, since I've become Trident's Outreach Education Specialist at Fort Irwin I get to see how they impact other families. Despite the constant state of flux, education can make the rollercoaster a little less bumpy.
With the advent of online education, a PCS is no longer as detrimental to achieving a degree. As a military spouse, it makes me feel more grounded and focused. For our service members, men and women on active duty have the opportunity to become better leaders no matter where they're located.
Beyond education, most military installations have a spouse's club which is beneficial for networking and meeting new people. Certain off-base stores offer military discounts and many theme parks, hotels, and other recreational venues will offer discount packages. Additionally, there is Program S, a subprogram of the Priority Placement Program (PPP), that provides employment preferences to military spouses.
The healthcare benefits we have access to are one of the most important advantages we have. The first time I visited a pharmacy on base, I asked the gentleman behind the counter if they accepted debit cards because I didn't have any cash on me. Chuckling, he replied, "Ma'am, it's free."
While all of these benefits are great, they do not replace having my spouse at home, the good friend I'm missing because one of us just moved, or the family members who live far away. While there are many ups and downs and challenges to overcome, my family and I forge ahead, enjoying being part of this amazing and unique community.
Karen Diaz is an Outreach Education Specialist with Trident. She holds a Bachelors in Speech Communication from San Diego State University and has been an active member in all of the communities that she has called home.