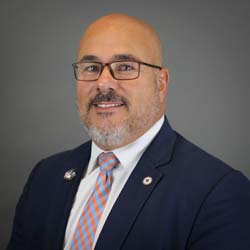 Trident University Regional Manager of Strategic Military and Community Relations shares insights about how to ease the transition from military service to college, and civilian life.
Emanuel "Manny" Sepulveda, Helping Current and Former Military Members Find Educational Opportunities
"My transition was easy," said Emanuel "Manny" Sepulveda, Regional Manager of Strategic Military and Community Relations for Trident University International, and a 20-year veteran of the United States Navy. Before you jump to any conclusions, Manny was not being arrogant. Talking to him, even for the first time, is like starting a conversation with a high school buddy you haven't seen in years.
Sepulveda's outgoing personality and planning made his transition from military to civilian relatively stress-free. Knowing that he would eventually be starting a new chapter in life, he began to prepare early. This planning enabled him to have a comfortable, post-Navy landing.
Regional Managers of Strategic Military and Community Relations like Sepulveda, are key in helping military students adjust, adapt, and succeed when starting or continuing college after service. By working alongside current and former members of the military, Sepulveda helps them to find educational opportunities both within and outside of the armed forces.
From Navy Career to Regional Manager of Strategic Military and Community Relations
His Navy career included submarine duty in the Mediterranean and the Arctic, and time as a counselor recruiter. His awards include two Navy and Marine Corps Commendation Medals, nine Navy and Marine Corps Achievement Medals, and various unit and campaign awards. Sepulveda was born in Puerto Rico and raised in New Jersey. He holds a Bachelor of Science in Business Administration degree, with a concentration in Human Resources.
"It's never too early to start networking," Sepulveda says. Networking was key for him. With his friendly, gregarious nature, and established military career, he was able to network and get strategic advice about what he should and should not be doing. When asked what the best advice he received was, he responded without hesitation: "It was to go to school."
He learned all he could as a Navy recruiter, and he even spent time as a mentor. He developed strong leadership skills, but Sepulveda is also a remarkable communicator. His recognition of the importance that culture plays in an organization is just one of the reasons he's been so successful as a Regional Manager of Strategic Military and Community Relations for Trident University.
Sharing an anecdote from a previous professional role, he said he was dismayed at seeing colleagues who were unwilling to help each other out. "I didn't like the lack of camaraderie, the lack of a team spirit," he recounted. "If something needs to be done, it's our job. We all need to pitch in."
Since stepping into his current role at Trident, Sepulveda has had a completely different experience. He feels that he is part of the team - and that all of his early preparation is still paying off.
Trident is an online university that was founded in 1998, and is regionally accredited by the Western Association of Schools and Colleges. Its growing student population consists of a diverse set of adult learners. Roughly two-thirds are active-duty military, National Guard, and reservists, in addition to a large number of student-veterans enrolled in online degree programs, and who are making the transition to a civilian career after leaving the military.
For those men and women who are preparing to step away from the military, and who are transitioning to college and a civilian career, he offered, "The most important thing to remember when you're preparing to transition is that, no matter where you're networking or who you seek out for advice, you're always on an interview. If you treat it like that and maintain a positive attitude, you'll do a lot of good for yourself." To learn more about Trident's online degree programs and military tuition assistance options, visit: our US Armed Forces page.
Based on an article that appeared in RecruitMilitary's Search & Employ® magazine
About Trident University
Founded in 1998, Trident University International (Trident) is a leading online post-secondary university serving adult learners. Trident developed the Trident Learning Model, which employs case-based learning in an online setting to teach real-world relevant critical thinking skills to enhance student's lives and careers. Trident offers high-quality bachelors, masters, and doctoral degree programs, led by a qualified faculty team, over 80% of whom have doctoral degrees. Visit www.trident.edu, Trident's Facebook page, or call at 800-579-3197 to learn more about Trident's wide range of program offerings.