SPEAKING AN EMPLOYER'S LANGUAGE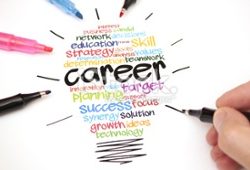 Trident University International launched the new Career Advising and Development Center (CADC) last November (2013) to assist students in the transition from college to career, or in the advancement of their current career. Serving a student body that represents a large military population, and average student age of 35, means the workforce transitioning from Trident to a variety of corporations, institutions and organizations brings a wealth of skills and experience along with their newly minted degrees. The CADC is positioned to play a vital and necessary role in helping these students transition and is already making headway in this endeavor.
The majority of students who have connected with the CADC are either military about to transition, or alumni who are veterans. This population, while solidly prepared in terms of experience and education, are often challenged in understanding the civilian job search process and in being able to effectively share their skills and experience in terms a civilian employer can truly understand (unless they too are prior military). Enter the CADC.
In the CADC, we teach students and alumni to "speak an employer's language" by helping them learn to translate their skills, experience and expertise into terms anyone can grasp. We explain that no matter what transition one makes, it is vital to speak the language of the new employer; that goes for military to civilian transitions, industry to industry transitions, and company to company transitions. We provide students and alumni with tools and techniques for learning to speak the language of the new employer, such as matching the job posting by using its terms to describe their skills and experience.
We also encourage students and alumni to go job shopping, that is use the big job boards, employer sites, bureau of labor statistics site, and other resources to learn about a wider variety of opportunities than they are currently aware. By "shopping around" great opportunities often show up that are a perfect match for the job seeker, and then we help the job seeker to conduct more research on the employers who may be hiring for that position, tie their own experience and skills to the opportunities, target their resume, cover letter and interview examples to the specific job opportunity and connect with the employer.
CADC counselors work with employers to gain understanding of their company's needs, culture, language, and expectations; then help students target their resume and cover letter to the specific employer, and get comfortable talking about themselves.  Our employer partners offer Information Sessions designed to introduce students and alumni to the company, provide information on company hiring process, highlight specific career paths and jobs, or even to provide more generalized "recruiters look for. . ." information. These sessions are open to all current students and alumni, along with prospective students considering Trident University International for their educational needs.
Additionally, many of our employer partners have programs specifically focused on helping military members in transition and veterans navigate their employment process, which can provide assistance to applicants seeking employment with their company. We also have the assistance of the Outreach and Partnership Military Education Liaison team, all of which are prior military and have made the successful transition to civilian employment and are willing to provide feedback and guidance to students and alumni in effectively making the transition from the military to civilian.
Probably the biggest challenge the CADC has is that most students and alumni are unaware that the center exists, or of the many services offered. Center staff is available for appointments Monday through Friday between 9AM and 4PM PST and can be reached by calling 714-816-0366 Ext. 1943, or by email: trident4careers@trident.edu. We hope to serve you soon!