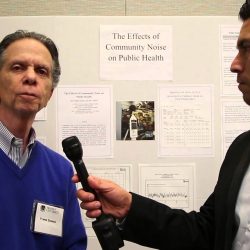 While the Flint water crisis can trace its origins back to April 2014, it has only become front page news in the past few months. This public health crisis was set in motion when the city of Flint, MI changed its water source from treated Detroit Water and Sewerage Department water to the Flint River.
This decision to make the switch, made by an emergency city manager appointed by Michigan Governor Rick Snyder, resulted in 6,000 to 12,000 children drinking water with a high level of lead, which will cost the city of Flint an estimated $100 million to resolve, according to WNEM. The highly polluted water from the Flint River caused lead from aging pipes to leak into the city's water supply, and concerns were first raised by citizens in January 2015.
Dr. Frank Gomez, professor in the College of Health and Human Services, is one of Trident's foremost experts in public health. He has a great deal of experience in this field, which includes serving as a lecturer and professor in health sciences and environmental health dating back to the '70s, serving on the State of California's Environment Health Specialist Registration Committee, and professional studies and papers covering research areas like noise pollution, environmental health, wastewater, and air quality, among others.
Following this story as it developed, Dr. Gomez noticed that the city did not do a lot of testing before they switched water sources. If more testing was done, perhaps this situation could have been avoided entirely.
"We need to understand the public health consequences of this water crisis. What does lead poisoning lead to? A lot, and children are significantly affected by it," Dr. Gomez stated. "Water is one of the main sources of the transmission of disease."
Childhood exposure to lead causes a reduction in intellectual functioning, academic performance, and problem solving abilities, as well as an increased risk of attention deficit disorder, aggressive behavior, and hyperactivity.
According to Harvard's Kennedy School, children with elevated levels of lead have decreased brain volume as adults, as well as altered executive functioning and impulse control, leading researchers to explore links between exposure and criminal behavior, substance abuse, and sexually transmitted infections.
Dr. Gomez noted, "The issue of lead has been a significant public health issue for 40-50 years. Those of us who are trained in public health understand this, and the issues with lead paint and how it affected inner city children in the '50s and '60s. This is why lead-based paint is not used anymore."
Trident has modern, robust health sciences and public health programs at the bachelors, masters, and doctoral levels, where students have the opportunity to learn about a variety of public health issues from expert faculty such as Dr. Gomez. Lead contamination and related issues are wide-ranging, and like Dr. Gomez noted, water can play a major role in making a situation go from bad to worse.
"Our masters level classes give students an overall understanding of the problems that they should be familiar with, and how to research, identify, and critically address issues that fall under the umbrella of public health,"" said Dr. Gomez.
Dr. Frank Gomez is currently Professor of Health Sciences in the College of Health & Human Services at Trident University International. He earned his Dr.PH and MPH at UCLA's School of Public Health in Environmental Health. He worked with the Department of Health Services, Public Health Programs, County of Los Angeles, for 29 years. He has also served as Program Director for the Ph.D. in Health Sciences program at Trident, as well as a lecturer in public health and health sciences at UCLA's School of Public Health, CSULA, and CSUDH before assuming his current position. He is a veteran of the United States Army, retiring at the rank of Captain.