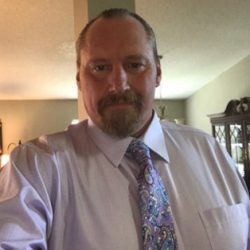 Richard Van Wey believes that the Bachelor of Science in Leadership (BSL) degree will impact his life tremendously.
"After 22 years of active duty service and another 10 years as a contractor working closely with active duty military, it has been frustrating that I have been unable to effectively apply the leadership skills that were so important in the military to my civilian life," states Richard.
Due to deployments and family, he has not had time to continue his education. He believes pursuing his bachelors degree will be a challenge, but it's an opportunity that he can't pass up.
Richard wishes to use the leadership skills he learned in the military to mentor those with less experience, as well as his colleagues. This positive attitude, combined with his authentic, hands-on approach, will allow Richard to make an impact that is felt beyond just himself.
Trident University is proud to present Richard Van Wey with the Military Hero Scholarship. We believe Richard has demonstrated hero-like qualities and has contributed to the safety of this country. Now it's his turn to pursue his dream and begin his academic success!
Watching Richard, a Purple Heart who served our great country, learn that he was awarded our Military Hero Scholarship, was the highlight of my year. I cried tears of joy along with him. He certainly deserves this and we at Trident are lucky to have him!

Elizabeth Cuic, Student Success Advisor, Trident
Trident: Who are some of the military heroes who have inspired you to achieve your goals?
Richard Van Wey: The first person that actually comes to mind isn't someone that you ever heard of. It was a young man a couple years younger than me. During the Khobar Towers incident, he was shaken up and afterwards also went on to further his education. More so it was his unwavering effort to be authentic and not let this thing get him down.
Trident: You've told us how the degree would help you, but how will you use the degree and what you learn in class to help others?
RVW: Ther's a lot of positive things that I have already learned as far as human management and different aspects that I hadn't previously considered. Along with the leadership skills I learned in the military and with what I'm experiencing now, I can really help all these young guys who are looking for a positive role model. Somebody that will tell them, "You don't have to be anything other than what you want to be." My dad told me, "The one thing you will never achieve is anything you didn't dream of, so you have to go for it, because if you don't aspire to it, you'll never achieve it."