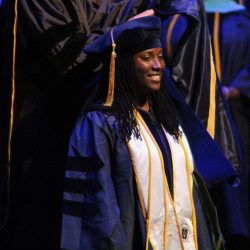 Are you ready to join the 2%?
Pursuing a doctoral degree is a major undertaking. It involves careful planning, hard work, and making a commitment to the time it takes to complete a rigorous program.
It is not for the faint of heart. Most of the students who decide to pursue a degree at this level are already well into their careers and have families and responsibilities that leave them with a limited amount of free time. Enrolling in a program that requires an additional 15-20 hours of work per week of time is a major undertaking - but many make it work, and the rewards are often great.
According to U.S. Census Bureau findings as reported in The Hill, about a quarter of American adults, 26 percent, have a high school diploma. Another 21 percent have attained a bachelor's degree, while 9.3 percent of adults over 25 have a master's degree. Almost 2 percent of Americans have a doctoral degree, and 1.5 percent have earned a professional degree that requires study beyond a four-year bachelor's course.
For those who pursue and obtain a doctorate, they will find themselves in a select class occupied by just 2% of their fellow Americans. Attainment of a degree at this level can lead to exciting new employment opportunities, advancement at one's current job, and personal fulfillment.
No matter what the motivation is for wanting to have this degree, consider the benefits associated with earning it and the commitment it takes to complete a program.
You will likely find it is worth the investment.
Jeffery Davis is a Doctoral Specialist in Trident's Admissions department. Trident offers five doctoral degrees, including Ph.D. in Business Administration, Doctor of Business Administration (DBA), Ph.D. in Health Sciences, Ph.D. in Educational Leadership, and Doctor of Education (Ed.D.).