Dr. Alex Gorlovsky
Full-time Faculty - University College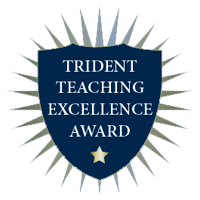 Dr. Alex Gorlovsky is a veteran educator with over 25 years of experience. Since joining Trident University in February 2012, Dr. Gorlovsky has taught over 2000 students. This rich experience contributes to his unique perspective on helping students of diverse backgrounds to define and reach their personal academic goals. His teaching philosophy is consistent with the student-centered approach where success is the main objective and failure is never an option. He achieves high rates of student satisfaction through personal dedication and commitment, as well as by embracing the individual needs of each student. Dr. Gorlovsky is a firm believer that teaching is not only a privilege but also a responsibility that requires setting the highest standards of leadership and excellence.
Trident Teaching Excellence Award
Dr. Gorlovsky was selected from among 40 nominated faculty members for the Winter 2018 session.
Prof Gorlovsky's feedback was very informative. I could sense his passion for Art History as well as his knowledge and experience. Upon completion of every assignment, I received very detailed feedback and constructive criticism. I was able to learn from it and become better every assignment. I'm grateful for Prof Gorlovsky and I am sure that my classmates can say the same. Thank you Prof Gorlovsky!
Anthony - ART101, January 2018
Associations


University of Southern California Alumni Association


The College Arts Society


Areas of Expertise
University experience, student retention, student satisfaction, art history