Dr. Sharon Nazarchuk R.N.
Part-time Faculty - College of Health and Human Services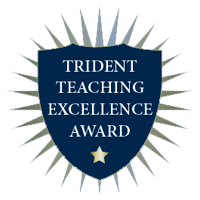 The first two initials after my name are R.N.. I have worked in health care for over 40 years and this has given me so much insight into the courses I teach in the health sciences. Having the other degrees are a plus. My educational philosophy is based on principles that emphasize the search for meaning, freedom of choice, personal responsibility, self-awareness and compassion directed toward self and others. I believe that education is a process that prepares each individual to deal with life and to search for meaning. Education is a continuous, life long process of evolution aimed at the development of intellectual, aesthetic, and professional interests that advance the learner toward personal and professional goals. Quality teaching is accomplished through a dialogue with the learner whereby the teacher and learner pose questions and explore choices in action.
Trident Teaching Excellence Award
Dr. Nazarchuk was selected from among 34 nominated faculty members for the Summer 2017 session.
Dr. Sharon Nazarchuk is a true living example of Trident University Values, Mission, Visions and  Promise, an inspiration, a role model, a  professor with high academic standards,caring and compassionate. Her commitment to excellence and student success, made the course a great and unique learning experience. Also, much appreciation  for her kind understanding and true help in time of need. Thank you Doctor Nazarchuk for your exceptional teaching, for inspiring and helping us in our personal and academic journey!
Rodica, RMS620 – Summer 2017
Programs
Master of Science in Health Administration
Ph.D. in Health Sciences
Publications
Legg, T. J. & Nazarchuk, S. (2012). Nursing home profit status, FTE activity staff compliment and citation scope/severity at F-248 in United States nursing homes. American Journal of Recreation Therapy.
Legg, T. J. & Nazarchuk, S. (2012). Professional association membership: Does it impact the likelihood of deficiency citations at F-248 in skilled nursing facilities in the United States. American Journal of Recreation Therapy.
Legg, T. J., Nazarchuk, S. A. (2012). Turning a blind eye to the rules that we establish: When surveyor's fail to cite facilities that fail to employ a qualified activity director in skilled nursing facilities in the United States.
Favorite Quote
"There is a reason I have been with Trident since 2001, and that is for love of this university and the students. It is a pleasure bringing my experience into the "classroom" and sharing my thoughts with them. I have a great program director, Dr. Mickey Shachar who is always available to discuss issues that perhaps another opinion would help.Trident is a great place to work, if it weren't, I wouldn't be here writing this."
Areas of Expertise
Health care, health sciences, and nursing.