April 23, 2019 – Cypress, CA – Trident University International (Trident) is excited to announce the promotion of Dr. Kenneth W. Cromer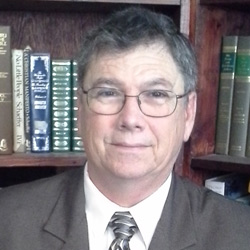 to Doctoral Mentor in the Glenn R. Jones College of Business.
In this new role, Dr. Cromer works closely with Ph.D. in Business Administration students over the course of the entire program, providing them with the guidance needed to hone their research skills, successfully complete and defend a dissertation, and succeed after graduation.
A 30-year veteran of the United States Armed Forces, Dr. Cromer joined Trident in 2010 as a part-time faculty member, and was the University's first recipient of the Teaching Excellence Award. He has instructed courses at all program levels, including Technology Innovation and Critical Thinking for Business HRM and Leadership, Business Ethics, and Entrepreneurship.
Additionally, Dr. Cromer has served on multiple dissertation committees, including for Dr. Angie Cox (Ph.D. in Business Administration, '17). Her dissertation, "Virtual worlds, virtual reality, and augmented reality: Differences in purchase intentions based on types, users, and sex," was published in Virtual Worlds Research in 2017.
Dr. Cromer's areas of expertise and research interests include organizational studies, business administration and strategy, organizational change, psychological capital, and emergency and disaster management.
Dr. Cromer holds a Ph.D. in Business Administration and Master of Arts in Education from Trident, a Master of Education in Instructional Technology from Troy University, and a Bachelor of Science in Liberal Studies from Excelsior College.
About Trident University 
Founded in 1998, Trident University International (Trident) is a leading online postsecondary university serving adult learners. Trident uses the EdActive™ learning approach, which employs case-based learning in an online setting to teach real-world relevant critical thinking skills to enhance the lives and careers of students. Trident offers high-quality bachelors, masters, and doctoral degree programs and certificates, led by a qualified faculty team, over 80% of whom have doctoral degrees. Trident is regionally accredited by the WASC Senior College and University Commission (WSCUC) and has over 32,000 alumni, including more than 27,000 with a military affiliation. The University has received multiple acknowledgements from Military Times, Victory Media's Military Friendly Schools, and Military Advanced Education & Transition for their dedication to military-affiliated students. Visit www.trident.edu, Trident's Facebook page, or call at to learn more about Trident's wide range of educational options.