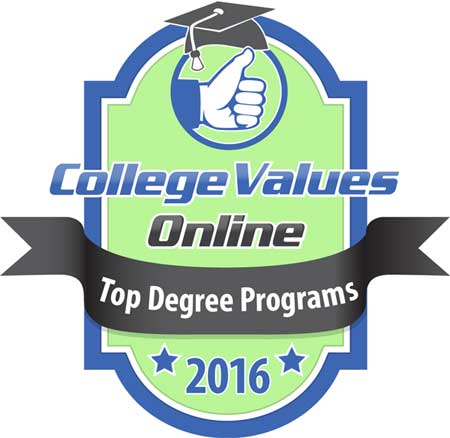 April 29, 2016 – Cypress, CA – Trident University International (Trident) has recently been recognized by two publications for the affordability of its master's programs. College Values Online placed Trident at #1 on their "Online Graduate Programs: 10 Best Values 2016" list, noting that all of the schools on the list are, "a combination of colleges and universities that balance costs on top of quality, all while designing some seriously superior grad-level curricula."
In singling out Trident, College Values Online states that, "Trident easily stands out in any online graduate degree ranking…[the University] knows what it takes to make students successful."
College Values Online also ranked Trident's as the #1 "Best Value" for 2016 for doctorate degrees online. The University's four programs are highlighted as "more than an advanced version of a master's degree" where students enjoy rigorous instruction by focusing on "research methods, professional practice, and innovative design."
With a 95.00 raw score (out of 100) on the "Doctorate Degree Online: 5 Best Values of 2016" list, Trident bested #2 on the list by nearly 20 points.
Top Education Degrees acknowledged the affordability of Trident's Master of Arts in Education (MAED) degree, placing the University at #12 of 50 schools on their "50 Most Affordable Small Colleges for a Masters in Education 2016." The institutions featured are described as an "impressive array of choices." Trident's commitment to student success is singled out, as students enjoy "a supportive learning community and access to exceptional faculty."
"Trident is focused on providing one of the best online higher education opportunities for our students while keeping costs as low as possible. It is great to have outside recognition of our continued efforts to help students achieve their educational goals," said Dr. Michael K. Mahoney, Executive Vice President and Provost.
Trident, a leading 100% online post-secondary institution that offers degrees at the bachelors, masters, and doctorate levels, is committed to its community of adult learners and over 28,000 alumni. Founded in 1998, the University is regionally accredited by the WASC Senior College and University Commission (WSCUC).
About Trident University 
Founded in 1998, Trident University International (Trident) is a leading online post-secondary university serving adult learners. Trident developed the Trident Learning Model, which employs case-based learning in an online setting to teach real-world relevant critical thinking skills to enhance student's lives and careers. Trident offers high-quality bachelors, masters, and doctoral degree programs, led by a qualified faculty team, over 80% of whom have doctoral degrees. Visit www.trident.edu, Trident's Facebook page, or call at to learn more about Trident's wide range of program offerings.