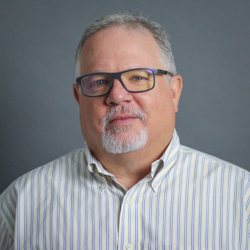 August 21, 2020 – Chandler, AZ – Trident at American InterContinental University (Trident) has selected Dr. Mark Young as the recipient of its Teaching Excellence Award for the Winter 2020 quarter. From the pool of faculty nominated, Dr. Young was selected as the winner by University leadership based on the strength of the positive feedback submitted by students.
"Dr. Young was frank with his comments and grading, but also willing to assist in any way possible to help improve my papers," notes Phillip Flake, Trident Master of Science in Leadership student. "This gentleman is a true asset to Trident and to any student who has the privilege to take his class."
An experienced university-level instructor, Dr. Young joined Trident's Glenn R. Jones College of Business in 2018. Previous academic experience includes Divisional Vice President for Strategic and Academic Partnerships at Ashford University. He's a published researcher with expertise in business development, strategic management, and organizational consulting.
Dr. Young's steadfast engagement makes our department, our college, and our university stronger and better prepared to excel. He is an asset to his students, and a credit to his profession.
Dr. Bill Luton, Management and Leadership Department Chair at Trident
Additionally, Dr. Young's varied background includes time in the corporate world, with both entrepreneurial and consulting experience under his belt.
Dr. Young earned a Doctorate in Psychology in Organizational Leadership and Development from the University of the Rockies. He received a Master of Business Administration from University of Phoenix and a Bachelor of Science in Business Administration from Averett University in Danville, VA.
About Trident University International
Founded in 1998, Trident University International is a member of the American InterContinental University System, which is accredited by the Higher Learning Commission (hlcommission.org). Trident uses the EdActive™ learning approach, which employs case-based learning in an online setting to teach real-world relevant critical thinking skills designed to enhance the lives and education of students. Trident offers quality associate, bachelors, masters, and doctoral degree programs and certificates, led by a qualified faculty team, over 80% of whom have doctoral degrees. Trident has over 32,000 alumni, of which more than 27,000 have a military affiliation and has received acknowledgements from Washington Monthly, Military Times, and Military Advanced Education & Transition for their dedication to student success. Visit www.trident.edu, Trident's Facebook page, or call at to learn more about Trident's wide range of educational options.