August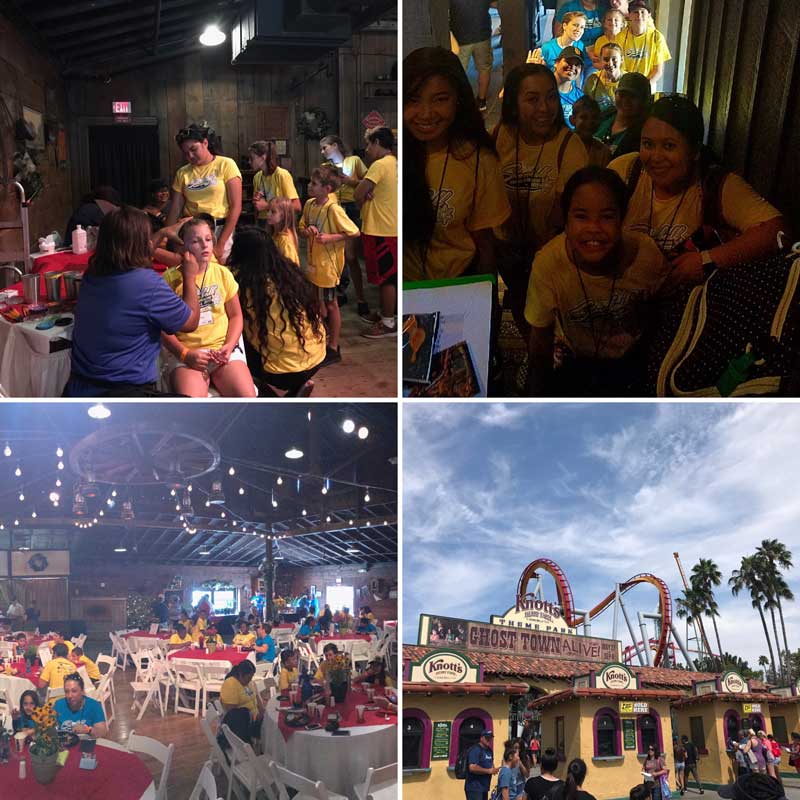 25, 2017 – Cypress, CA – Trident University International (Trident) recently held its second annual Snowball Community Event at Knott's Berry Farm in Buena Park, CA.
Snowball Community Events are part of non-profit Snowball Express. Since 2006, Snowball Express and its events and programs have provided hope and new happy memories to the children and surviving spouse or relative of military fallen heroes who have died while on active duty since 9/11. Further, the event connects the children and surviving spouses of the fallen with others who are experiencing the same traumatic loss.
The event, co-sponsored by Knott's, hosted approximately 165 guests from military families, as well as Trident volunteers. VIP guests in attendance included:
Sheldon Bailey (aka "Ruthless") and Bubba Ganter (aka "Bunny"), stars on the hit Nickelodeon television show, GAME SHAKERS. The show, entering its third season this fall on Nickelodeon, is aired worldwide and is the No. 2 ranked show in the U.S. for kids.
Mayor Paulo Morales, Cypress, CA
Sharon Quirk-Silva, California State Assembly, 65th District
Daniel Ewing, Veteran Affairs Liaison, from U.S. Congressperson Edward Royce's Office
Mayor Beth Swift, Buena Park, CA
Vice Mayor Diane J. Martinez, Paramount, CA
Supporting the military and their families is a big part of what we do at Trident given that nearly 80% of our students are active duty, veterans, dependents, or serving in the National Guard. We appreciate the opportunity to have hosted these military families who have truly made the ultimate sacrifice.
Travis Allen, President and Chief Executive Officer of Trident
Level Interactive, based in Pittsburgh, PA., and the Cooley law firm, based in Palo Alto, CA, supported the event as VIP sponsors.
Trident hosted its first Snowball Community Event, "Snowflake Family Adventure," at Universal Studios in Los Angeles last year. Trident has also hosted multiple letter-writing campaigns for Operation Gratitude, which has generated over 2,000 cards and letters sent to members of the military and first responders.
About Trident University 
Founded in 1998, Trident University International (Trident) is a leading online post-secondary university serving adult learners. Trident developed the Trident Learning Model, which employs case-based learning in an online setting to teach real-world relevant critical thinking skills to enhance student's lives and careers. Trident offers high-quality bachelors, masters, and doctoral degree programs, led by a qualified faculty team, over 80% of whom have doctoral degrees. Visit www.trident.edu, Trident's Facebook page, or call at to learn more about Trident's wide range of program offerings.
About Knott's Berry Farm and Cedar Fair Entertainment Company
Knott's Berry Farm is owned and operated by Cedar Fair Entertainment Company, a publicly traded partnership that is listed for trading on The New York Stock Exchange under the symbol "FUN." In addition to Knott's Berry Farm, Cedar Fair owns and operates ten other amusement parks, three water parks, one indoor water park, and five hotels. Cedar Fair also operates the Gilroy Gardens Family Theme Park in California under a management contract. Visit knotts.com or connect with us on Facebook, Twitter, and Instagram.
About Snowball Express
Over the past decade, true American Heroes, the men and women of the United States Military and their families, have made and continue to make extraordinary sacrifices to protect our freedom. Since 2006, Snowball Express, a 501(c)(3) nonprofit organization, has hosted an annual gathering and programs that bring children of fallen military heroes together from around the nation. The mission of Snowball Express is to honor America's fallen military service members who have made the ultimate sacrifice since 9/11 by humbly serving the families they left behind. Champion their children's future success by creating opportunities for joy, friendship, education, and communal healing, by connecting these families to one another. For the third consecutive year Charity Navigator, the largest independent charity evaluator in America awarded Snowball Express their highest rating, a 4-Star rating. To learn more about Snowball Express and to get involved please visit www.snowballexpress.org or on social media at: Facebook.com/SnowballExpressUSA, and follow us on Twitter @SnowballExpress.