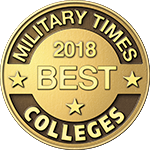 December 19, 2017 – Cypress, CA – Military Times has announced its Military Times Best: Colleges 2018 rankings, and for the third consecutive year Trident University International (Trident) has made the list. Formerly known as Best for Vets, Trident placed at #19 on the Online and Nontraditional Schools list.
Now in its eighth year, the Military Times Best: Colleges 2018 rankings factor in the results of Military Times' annual survey, the most comprehensive school-by-school assessment of veteran and military student services and rates of academic achievement.
Everyone at Trident is committed to providing an exemplary student experience, especially for those men and women who serve and have served our country. Beyond our rigorous coursework and active learning approach, we believe that providing outstanding support for all of our students will allow them to accomplish their academic goals, especially those in the military.
Travis Allen, President and CEO of Trident
As with all Military Times rankings, Best Colleges 2018 is an editorially independent news project that evaluates the many factors that help make colleges and universities a good fit for service members, military veterans and their families. More than 600 colleges took part in this year's detailed survey.
Of the hundreds of schools that applied, fewer than half received the Military Times Best: Colleges designation this year. Only the best made the cut.
George Altman, Military Times editor in charge of rankings
Military Times' annual Best Colleges survey asks colleges and universities to meticulously document a tremendous array of services, special rules, accommodations and financial incentives offered to students with military ties; and to describe many aspects of veteran culture on a campus. Military Times also factors in data from the Veterans Affairs and Defense departments, as well as three Education Department sources: the IPEDS Data Center, College Scorecard data and the Cohort Default Rate Database.
For the full Military Times Best: Colleges 2018 rankings, go to https://www.militarytimes.com/education-transition/rankings/2017/11/20/218-schools-make-military-times-best-colleges-2018-rankings/.
The rankings are published in a Military Times magazine sent to subscribers, as well as online at MilitaryTimes.com, ArmyTimes.com, NavyTimes.com, AirForceTimes.com, and MarineCorpsTimes.com.
About Trident University 
Founded in 1998, Trident University International (Trident) is a leading online postsecondary university serving adult learners. Trident uses the EdActive learning approach, which employs case-based learning in an online setting to teach real-world relevant critical thinking skills to enhance the lives and careers of students. Trident offers high-quality bachelors, masters, and doctoral degree programs and certificates, led by a qualified faculty team, over 80% of whom have doctoral degrees. Trident is regionally accredited by the WASC Senior College and University Commission (WSCUC) and has over 32,000 alumni, including more than 27,000 with a military affiliation. The University has received multiple acknowledgements from Military Times, Victory Media's Military Friendly Schools, and Military Advanced Education & Transition for their dedication to military-affiliated students. Visit www.trident.edu, Trident's Facebook page, or call at to learn more about Trident's wide range of educational options.
About Military Times
The Military Times digital platforms and newsweeklies are the trusted source for independent news and information for service members and their families. The military community relies on Air Force Times, Army Times, Marine Corps Times, and Navy Times for reporting on everything important to their lives, including: pay, benefits, finance, education, health care, recreational resources, retirement, promotions, product reviews, and entertainment. Military Times is published by Sightline Media Group. To learn more, visit www.militarytimes.com.