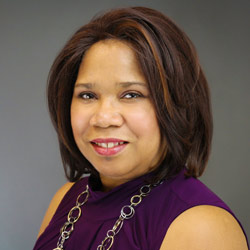 February 17, 2017 – Cypress, CA – Trident University International (Trident) today announced a virtual career fair for students and alumni. The online event is slated for March 29th, from 10:00 a.m. to 2:00 p.m. Pacific Time. The event will host several employers, featuring such U.S. and international companies as Comcast, Apple One, Federal Bureau of Investigation, Accountemps, Office Team, and Trident.
Since Trident is 100% online, students and alumni from all over the world will have a unique opportunity to interact with companies from anywhere in the world.
"Our students and alumni rely on Trident for access to national and international employment opportunities, as well as career guidance and professional skills development," stated Tanya White-Earnest, Director of the Center for Career Planning and Workforce Strategies. "Virtual career fairs are one of Trident's many invaluable and effective tools for our students and alumni seeking employment."
White-Earnest joined Trident in 2013, creating and launching the University's virtual career center, which provides 24-hour online career development resources for Trident students. She has created the successful Webinar Wednesday series, created relationships with over 270 employers to recruit Trident students and alumni, and created four credit-based career development courses at the bachelor's and master's levels. She has over 20 years' experience in Workforce Education, Training and Development, HR, and Career Development.
The free event is open to Trident students and alumni, however, prior registration is required by March 27th at trident4careers@trident.edu with "Career Fair" as the subject line.
About Trident University 
Founded in 1998, Trident University International (Trident) is a leading online post-secondary university serving adult learners. Trident developed the Trident Learning Model, which employs case-based learning in an online setting to teach real-world relevant critical thinking skills to enhance student's lives and careers. Trident offers high-quality bachelors, masters, and doctoral degree programs, led by a qualified faculty team, over 80% of whom have doctoral degrees. Visit www.trident.edu, Trident's Facebook page, or call at to learn more about Trident's wide range of program offerings.