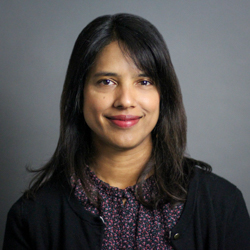 February 21, 2020 – Cypress, CA – Trident University International (Trident) is proud to announce that Dr. Lisa Mohanty has been named Dean of the University's Glenn R. Jones College of Business.
Since joining Trident in 2008, Dr. Mohanty has held a number of leadership positions, including Associate Vice President for Institutional Effectiveness and New Programs, Department Chair for Student Orientation and Social Sciences, and Program Director for General Education.
She most recently served as Dean of University College, a position which she assumed in 2017. In this role she led initiatives to improve student retention and oversaw the success of Trident's Associate of Science in Professional Studies (ASPS) program and the Medical Billing and Coding Certificate. She most recently oversaw the successful launch of the Organizational Leadership concentration in the ASPS program.
During her tenure, Dr. Mohanty established a reputation as an innovative educator. Through her leadership in program launches, course development, and academic administration, she has helped to improve the student experience in many ways.
Dr. Mihaela Tanasescu, Provost, Trident
Additionally, Dr. Mohanty is an experienced researcher whose areas of expertise include economics, business administration, and feminist economics. She has presented at the United Nations Entity for Gender Equality and the Empowerment of Women and has seen her research published in multiple academic journals.
Dr. Mohanty holds a Ph.D. and a Master of Arts in Economics from the University of California, Riverside, and a Bachelor of Arts in Economics from the University of California, Irvine.
About Trident University International
Founded in 1998, Trident University International is a member of the American InterContinental University System, which is accredited by the Higher Learning Commission (hlcommission.org). Trident uses the EdActive™ learning approach, which employs case-based learning in an online setting to teach real-world relevant critical thinking skills designed to enhance the lives and education of students. Trident offers quality associate, bachelors, masters, and doctoral degree programs and certificates, led by a qualified faculty team, over 80% of whom have doctoral degrees. Trident has over 32,000 alumni, of which more than 27,000 have a military affiliation and has received acknowledgements from Washington Monthly, Military Times, and Military Advanced Education & Transition for their dedication to student success. Visit www.trident.edu, Trident's Facebook page, or call at to learn more about Trident's wide range of educational options.