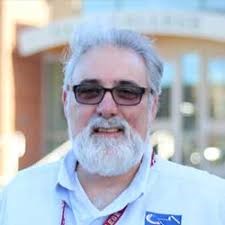 February 23, 2018 – Cypress, CA –Trident University International (Trident) today announced that Dr. Pietro "Pete" Savo was awarded the Teaching Excellence Award for Fall 2017. He was selected from among 55 Trident faculty members by both students and the University's academic leadership team.
A professor in Trident's College of Health and Human Services, Dr. Savo works with undergraduate and graduate students in homeland security courses.
Dr. Savo is interested in helping all students succeed by offering quality instruction and constructive criticism with class and dignity. The more I worked with Dr. Savo the more he inspired me to push myself beyond my own expectations.
Alexander Gober, Trident student
With over 30 years' in aerospace and department of defense operations, Dr. Savo's expertise includes security, safety, emergency planning, aviation security, industrial security, computer security, preventive risk intelligence, critical mishap response, and state/federal regulatory compliance.
Dr. Savo has developed and deployed customized education curricula programs in facility security, cyber threat intelligence, cyber and physical security, leadership development, lean manufacturing implementation, and workforce development.
In addition, Dr. Savo is the Program Coordinator/Chair, Criminal Justice and Homeland Security Management, at Dean College in Massachusetts. He is also a veteran volunteer for employer outreach, military outreach, and higher education outreach in support of the National Guard and Reserve.
Dr. Savo, a United States Navy veteran, holds a Doctorate in Business Administration (DBA) from Jones International University, a Master of Aeronautical Science from Embry-Riddle Aeronautical University, and a Bachelors in Business Administration from Sacred Heart University.
About Trident University 
Founded in 1998, Trident University International (Trident) is a leading online postsecondary university serving adult learners. Trident uses the EdActive learning approach, which employs case-based learning in an online setting to teach real-world relevant critical thinking skills to enhance the lives and careers of students. Trident offers high-quality bachelors, masters, and doctoral degree programs and certificates, led by a qualified faculty team, over 80% of whom have doctoral degrees. Trident is regionally accredited by the WASC Senior College and University Commission (WSCUC) and has over 32,000 alumni, including more than 27,000 with a military affiliation. The University has received multiple acknowledgements from Military Times, Victory Media's Military Friendly Schools, and Military Advanced Education & Transition for their dedication to military-affiliated students. Visit www.trident.edu, Trident's Facebook page, or call at to learn more about Trident's wide range of educational options.