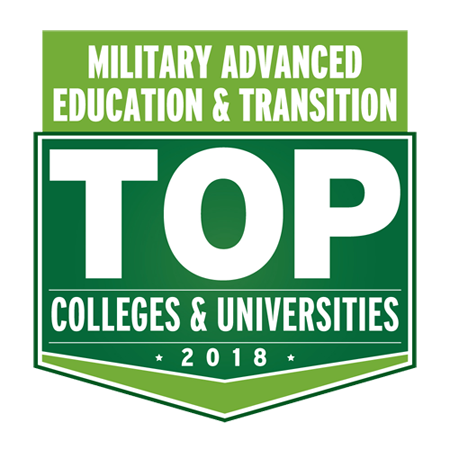 January 10, 2018 – Cypress, CA – Trident University International (Trident) has received the designation of "Top School" in Military Advanced Education & Transition's (MAE&T) 2018 Guide to Colleges & Universities. The Guide was released this month and is available online at www.mae-kmi.com.
The Guide presents results of a questionnaire of the military-supportive policies enacted at over 600 institutions including private, public, for-profit, not-for-profit, four-year, and two-year colleges. From community colleges to state universities, online universities and nationally known centers of higher learning, MAE&T's 2018 Guide to Colleges & Universities arms students with information about institutions that go out of their way to give back to our men and women in uniform.
Institutions were evaluated on their military culture, financial aid, flexibility, general support, and online support services.
Being recognized again as a Top School by Military Advanced Education and Transition, is a great honor and reflects Trident's continuous commitment to our nation's service members. Our focus on student success, especially among our military community, is based on the respect we have for all of our students, especially the men and women who have selflessly served our country.
Esmeralda Silva, Vice President, Strategic Initiatives and Government Relations
Military and veteran focused support at Trident includes the Trident Military Assistance Center, specialized support and instruction at Fort Irwin, scholarships, and numerous charity initiatives.
The 2018 Guide is printed in the December issue of Military Advanced Education & Transition, and is also published in a searchable database online. Students have access to all the survey questions and answers provided by the schools, as well as explanations about critical issues like activation and deployment policies, withdrawal policies, scholarship and financial aid information and important support information.
Visit www.mae-kmi.com for online access to MAE&T's 2018 Guide to Colleges and Universities, or pick up a copy of the December issue of Military Advanced Education & Transition.
About Trident University 
Founded in 1998, Trident University International (Trident) is a leading online postsecondary university serving adult learners. Trident uses the EdActive learning approach, which employs case-based learning in an online setting to teach real-world relevant critical thinking skills to enhance the lives and careers of students. Trident offers high-quality bachelors, masters, and doctoral degree programs and certificates, led by a qualified faculty team, over 80% of whom have doctoral degrees. Trident is regionally accredited by the WASC Senior College and University Commission (WSCUC) and has over 32,000 alumni, including more than 27,000 with a military affiliation. The University has received multiple acknowledgements from Military Times, Victory Media's Military Friendly Schools, and Military Advanced Education & Transition for their dedication to military-affiliated students. Visit www.trident.edu, Trident's Facebook page, or call at to learn more about Trident's wide range of educational options.