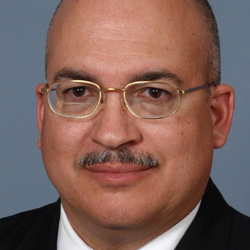 January 11, 2019 – Cypress, CA – After three vacationers went missing in Arizona, Trident University International (Trident) professor Dr. David Alegre was called upon to take part in a ground search and rescue assistance operation.
On November 17th, three people drove into the Hualapai Peak area, near Kingman, AZ, and did not return. After an initial search, the Mohave County Sherriff Office (MCSO) requested assistance from the Civil Air Patrol (CAP).
In response, the Arizona Wing headquarters, ground teams, and three squadrons joined the operation. Dr. Alegre, a volunteer CAP mission scanner and aerial photographer, was part of the CAP Prescott Squadron 206 crew that located the vacationing party's vehicle on November 20th in a canyon near Hualapai Peak.
The vehicle, which was unfortunately wrecked, was searched by MCSO recovery teams. This allowed authorities to afford the proper closure and recovery assistance to concerned family members.
The three aircrew members, including Dr. Alegre, were awarded the CAP Find Ribbon (Distress). This Emergency Services Ribbon is awarded to CAP members for who locate a subject on a search and rescue mission.
I am honored to have Dr. Alegre as part of our cadre of talented homeland security professors. His background and exemplary conduct contribute to our mission of adhering to the highest standards of academic excellence.
Dr. Rudolph Bustos, Department Chair, Homeland Security
Dr. Alegre instructs in Trident's College of Health and Human Services, teaching in the Bachelor of Science in Homeland Security program. He joined Trident in 2013 and is a veteran of the U.S. Armed Forces, with experience in weapons of mass destruction protection planning and hazardous materials management.
About Trident University 
Founded in 1998, Trident University International (Trident) is a leading online postsecondary university serving adult learners. Trident uses the EdActive™ learning approach, which employs case-based learning in an online setting to teach real-world relevant critical thinking skills to enhance the lives and careers of students. Trident offers high-quality bachelors, masters, and doctoral degree programs and certificates, led by a qualified faculty team, over 80% of whom have doctoral degrees. Trident is regionally accredited by the WASC Senior College and University Commission (WSCUC) and has over 32,000 alumni, including more than 27,000 with a military affiliation. The University has received multiple acknowledgements from Military Times, Victory Media's Military Friendly Schools, and Military Advanced Education & Transition for their dedication to military-affiliated students. Visit www.trident.edu, Trident's Facebook page, or call at to learn more about Trident's wide range of educational options.