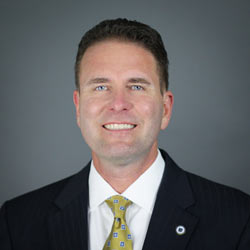 January 22, 2016 – Cypress, CA – Trident University International (Trident) is proud to announce that James Shiver has been promoted to Director of Strategic University Alliances, effective January 4th, 2016. Shiver, who has worked for Trident since 2014, previously served as Regional Manager of Strategic Military and Community Relations for the southeastern region of the United States.
In his new role, Shiver will be responsible for overseeing the development and management of strategic university alliances with corporate partners, government agencies, education institutions, and other organizations throughout the United States.
James has proven to be an excellent leader during his time at Trident. As our new Director of Strategic University Alliances, his work ethic, unparalleled skillset, and dedication to our corporate and military partners will serve the entire Trident community well.
Esmeralda Silva, Vice President of Outreach & Strategic Alliances
Shiver has over two decades of military experience in health care administration, clinical services, project management, and recruiting culminating in his retirement from the U.S. Army. He has also worked with disabled veterans and transitioning service members through the Army Medical Department, United States Olympic Committee, and various volunteer organizations, including the Wiregrass Wounded Veterans Committee and Team Red, White, and Blue.
Additionally, Shiver is on the Board of Directors for Special Operations Bionic Warriors (SOBW), an organization that assists significantly injured veterans and current members of the military. Shiver's dedication to the health and well being of the nation's veterans make this role a natural fit for him.
Shiver holds a Bachelor of Science in Health Sciences from Trident, graduating summa cum laude. He is currently working towards a Master of Business Administration. Shiver is married with four children, including one son who recently enlisted in the U.S. Air Force. In his spare time, Shiver enjoys traveling and spending time with his family and friends.
Trident, a 100% online university that has been in operation since 1998, is regionally accredited by the Senior College and University Commission of the Western Association of Schools and Colleges (WASC). Active duty military, veterans, National Guard, and military dependents make up 79% of the University's student population, and Trident is proud to employ many veterans at its faculty, staff, and management levels. Of Trident's 32,000 alumni, more than 27,000 have a military affiliation.
About Trident University 
Founded in 1998, Trident University International (Trident) is a leading online post-secondary university serving adult learners. Trident developed the Trident Learning Model, which employs case-based learning in an online setting to teach real-world relevant critical thinking skills to enhance student's lives and careers. Trident offers high-quality bachelors, masters, and doctoral degree programs, led by a qualified faculty team, over 80% of whom have doctoral degrees. Visit www.trident.edu, Trident's Facebook page, or call at to learn more about Trident's wide range of program offerings.