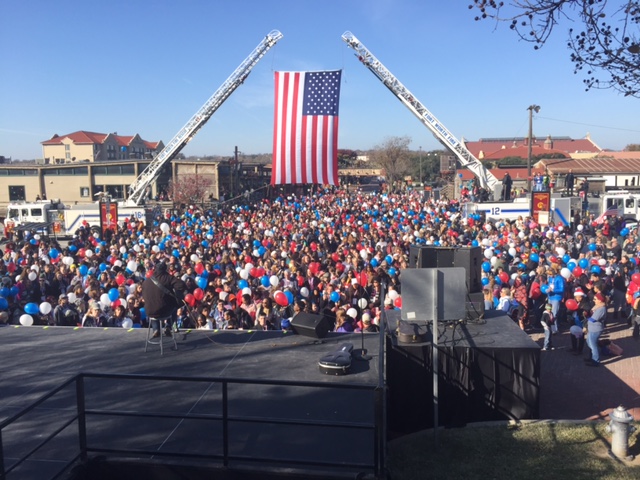 January 24, 2017 – Cypress, CA – For the second straight year, Trident University International (Trident) supported Snowball Express' "Walk of Gratitude" by sending a team to Fort Worth, TX. The event took place on Monday, December 12th at the Fort Worth Stockyards.
Snowball Express, founded in 2006, is dedicated to enhancing the lives of children who have lost a parent in the service. "Walk of Gratitude," like their other events, gives children an environment where they can create happy, long-lasting memories, and meet and bond with others in a similar situation, letting them know that they are not alone.
As part of their Annual Gathering, which ran from December 11th-15th, the "Walk of Gratitude" is a way for the public to show support to children who have lost a parent serving in the United States Armed Forces. Over 1,800 well-wishers attended showed their support at this event.
On Monday, families walked down Exchange Avenue in honor of the fallen, carrying a white balloon with special message to their lost loved one. Upon reaching the end of the street, each balloon was released.
Trident representatives who attended include Travis Allen, President & CEO, and Esmeralda Silva, Vice President, Outreach & Strategic Alliances. This is part of Trident's ongoing support of Snowball Express. In August, the University hosted "Snowflake Family Adventure" at Universal Studios in Hollywood, CA, funding the event through generous donations from staff, faculty, students, local businesses, and alumni.
"Taking part in this year's 'Walk of Gratitude' was a remarkable experience, giving us an opportunity to support a great cause. We are happy to support Snowball Express and all they do to help families," said Travis Allen, Trident's President & CEO.
Active duty military, veterans, National Guard, and military dependents make up 79% of the University's student population, and Trident is proud to employ many veterans at its faculty, staff, and management levels. Of Trident's 32,000 alumni, more than 27,000 have a military affiliation.
About Trident University 
Founded in 1998, Trident University International (Trident) is a leading online post-secondary university serving adult learners. Trident developed the Trident Learning Model, which employs case-based learning in an online setting to teach real-world relevant critical thinking skills to enhance student's lives and careers. Trident offers high-quality bachelors, masters, and doctoral degree programs, led by a qualified faculty team, over 80% of whom have doctoral degrees. Visit www.trident.edu, Trident's Facebook page, or call at to learn more about Trident's wide range of program offerings.