June 1, 2017 – Cypress, CA – Trident University International (Trident) today announced details of its second annual Snowball Community Event. The event, co-sponsored by partner Knott's Berry Farm, will be held on Thursday, August 3rd, at Knott's in Buena Park, CA.
Snowball Community Events are part of non-profit Snowball Express. Since 2006, Snowball Express and its local events have provided hope and new happy memories to the children of military fallen heroes who have died while on active duty since 9/11. Further, the event connects the children and surviving spouses of the fallen with others going through the same experience.
"Supporting the military and their families is a big part of our DNA. After all, nearly 80% of our students active duty, veterans, dependents, or serving in the National Guard," stated Travis Allen, President and Chief Executive Officer of Trident University. "This is an opportunity to support our local community, honor the sacrifice families of the fallen have made to our country, and help their children build loving, lasting connections with others who have also lost loved ones."
In the past few years, community events have become commonplace for Trident. The University hosted its first Snowball Community Event, "Snowflake Family Adventure" at Universal Studios in Los Angeles last year. Trident has also hosted multiple letter-writing campaigns for Operation Gratitude, which has generated over 2,000 cards and letters sent to members of the military and first responders.
For information, visit: https://snowball-express.networkforgood.com/projects/30803-trident-university-s-fundraiser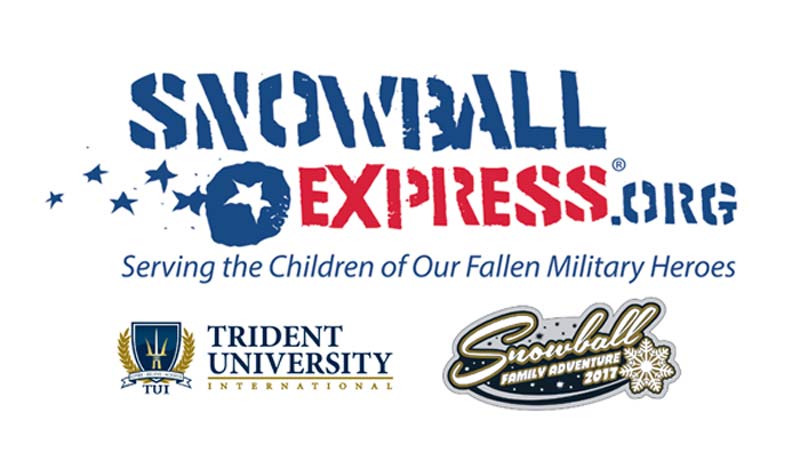 About Trident University 
Founded in 1998, Trident University International (Trident) is a leading online post-secondary university serving adult learners. Trident developed the Trident Learning Model, which employs case-based learning in an online setting to teach real-world relevant critical thinking skills to enhance student's lives and careers. Trident offers high-quality bachelors, masters, and doctoral degree programs, led by a qualified faculty team, over 80% of whom have doctoral degrees. Visit www.trident.edu, Trident's Facebook page, or call at to learn more about Trident's wide range of program offerings.
About Knott's Berry Farm and Cedar Fair Entertainment Company 
Knott's Berry Farm is owned and operated by Cedar Fair Entertainment Company, a publicly traded partnership that is listed for trading on The New York Stock Exchange under the symbol "FUN." In addition to Knott's Berry Farm, Cedar Fair owns and operates ten other amusement parks, three water parks, one indoor water park, and five hotels. Cedar Fair also operates the Gilroy Gardens Family Theme Park in California under a management contract. Visit knotts.com or connect with us on Facebook, Twitter, and Instagram.