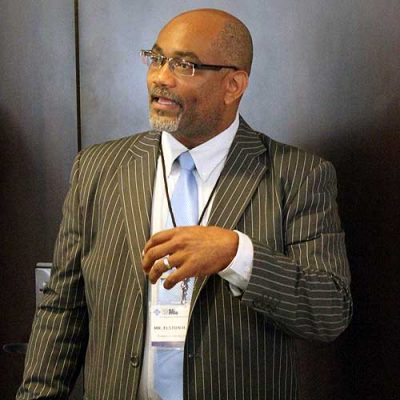 June 15, 2017 – Cypress, CA – Trident University International (Trident) is pleased to announce that current Ph.D. in Business Administration candidate Elston Steele's manuscript, "Partly Cloudy, Scattered Clients: Cloud Implementation in the Federal Government," has been accepted for publication in the 23rd Americas Conference on Information Systems.
The paper's co-authors include his dissertation chair, Dr. Indira Guzman, Doctoral Director of Trident's Ph.D. in Business Administration program, and his dissertation committee members, Dr. James Gaskin of Brigham Young University, and Dr. Monica Adya of Marquette University.
Based on Steele's dissertation, this study seeks to understand why the U.S. federal government's adoption of cloud computing has been sluggish since 2010 when the "Cloud First" policy was launched. Currently, few studies empirically address organizational cloud computing adoption from an institutional perspective in concert with top management support, an important gap in research this team hopes to address.
Steele has been active in scholarly research, presenting a poster at the 2016 ACM SIGMIS Computers and People Research conference in Alexandria, VA. His submission, "Investigating the Role of Top Management and Institutional Pressures in Cloud Computing Adoption," earned him first place (Graduate Category) in the conference's Student Research Competition.
Steele is scheduled to graduate in 2017 from Trident's Ph.D. in Business Administration program. He earned a Master of Science in Information Technology Management and a Bachelor's of Science in Information Technology Management, both also from Trident.
A military veteran, Steele is currently Chief, IT Programs and Operations Branch, for the Domestic Nuclear Detection Office of the Department of Homeland Security. He has extensive experience in the information technology field, including project management, strategic, and supervisory roles.
About Trident University 
Founded in 1998, Trident University International (Trident) is a leading online post-secondary university serving adult learners. Trident developed the Trident Learning Model, which employs case-based learning in an online setting to teach real-world relevant critical thinking skills to enhance student's lives and careers. Trident offers high-quality bachelors, masters, and doctoral degree programs, led by a qualified faculty team, over 80% of whom have doctoral degrees. Visit www.trident.edu, Trident's Facebook page, or call at to learn more about Trident's wide range of program offerings.