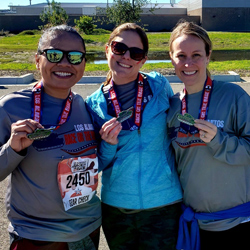 March 1, 2019 – Cypress, CA – On Saturday, February 23rd, Trident University International (Trident) took part in the 38th Annual Los Alamitos Race on the Base, held on the Los Alamitos Joint Forces Base in Los Alamitos, CA. A total of 15 staff members participated in various events that helped to raise money for local veterans' causes.
Race on the Base partners with various charities and community partners, including Honoring Our Fallen, Rock for Vets, Casa Youth Shelter, and Lestonnac Free Clinic.
Involvement in this event has become a yearly tradition for Trident, and it is tied in with the University's commitment to local, military, and veteran causes. Trident covered a portion of the registration fee for each employee participating in one of the events at Race on the Base.
Thank you to all of those who joined us for this year's Race on the Base. It was a great day to promote health and wellness, while also supporting the military community of northern Orange County.
Kendra Temple, Trident's Director of Alumni Engagement
Trident continues to maintain an active role in its local community. For their support of the military and veteran communities, the University was recognized by the City of Cypress as the 2018 BRACE Business of the Year. In December, Trident partnered with the Los Alamitos Chamber of Commerce's annual Adopt-a-Family program to raise $5K for families in need.
About Trident University 
Founded in 1998, Trident University International (Trident) is a leading online postsecondary university serving adult learners. Trident uses the EdActive™ learning approach, which employs case-based learning in an online setting to teach real-world relevant critical thinking skills to enhance the lives and careers of students. Trident offers high-quality bachelors, masters, and doctoral degree programs and certificates, led by a qualified faculty team, over 80% of whom have doctoral degrees. Trident is regionally accredited by the WASC Senior College and University Commission (WSCUC) and has over 32,000 alumni, including more than 27,000 with a military affiliation. The University has received multiple acknowledgements from Military Times, Victory Media's Military Friendly Schools, and Military Advanced Education & Transition for their dedication to military-affiliated students. Visit www.trident.edu, Trident's Facebook page, or call at to learn more about Trident's wide range of educational options.