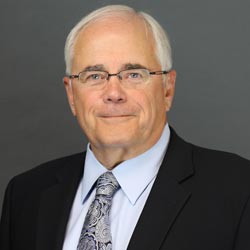 March 24, 2017 – Cypress, CA – Trident University International (Trident) is proud to announce that Dr. Mark Pieffer's paper, "Quitting Your Boss: Examples of Reducing Employee Dissatisfaction and Turnover," has been accepted for presentation at the Clute Institute International Conference on Business, scheduled for June 4th-8th in Stockholm.
This paper, co-authored with Dr. Francis R. Maffei III of Post University, Dr. Philip E. Burian, and Dr. Pamela S. Burian, both of Western Governors University, shows that good employees quit their boss and not their jobs. The co-authors reviewed five accomplished organizational leaders in order to determine what is necessary for a business to be successful.
Dr. Pieffer, Department Chair of Communications and Humanities in Trident's University College, is a 23-year veteran of the United States Army, also served as an Airborne Ranger Infantry Officer, before retiring as a Lieutenant Colonel. Before joining Trident, Dr. Pieffer served as the Provost at Jones International University.
Dr. Pieffer is an advocate of student-centric education. He enjoys working with adult and military students, stating that he admires those who are able to balance family, career, and university course work.
Dr. Pieffer earned a Doctor of Management degree from Colorado Technical University, M.A. in Psychology from University of Richmond, and a B.A. in Psychology from Central State University of Ohio. He was awarded a Trident Teaching Excellence Award in the Spring of 2016.
Trident, a 100% online university that has been in operation since 1998, is regionally accredited by the WASC Senior College and University Commission (WSCUC). Active duty military, veterans, National Guard, and military dependents make up 79% of the University's student population, and Trident is proud to employ many veterans at its faculty, staff, and management levels. Of Trident's 32,000 alumni, more than 27,000 have a military affiliation.
About Trident University 
Founded in 1998, Trident University International (Trident) is a leading online post-secondary university serving adult learners. Trident developed the Trident Learning Model, which employs case-based learning in an online setting to teach real-world relevant critical thinking skills to enhance student's lives and careers. Trident offers high-quality bachelors, masters, and doctoral degree programs, led by a qualified faculty team, over 80% of whom have doctoral degrees. Visit www.trident.edu, Trident's Facebook page, or call at to learn more about Trident's wide range of program offerings.