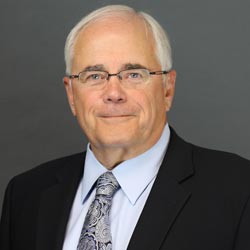 November 29, 2016 – Cypress, CA – Dr. Mark Pieffer, Department Chair of Communications and Humanities in Trident University International's (Trident) University College, recently received a Trident Teaching Excellence Award.
Dr. Pieffer was selected from among five finalists. Over the course of Trident's Spring session and the March, April, and May Fastrac sessions, 65 faculty members were nominated by 84 students. He received the largest number of student nominations and is the only faculty member to be nominated by at least one student in each of the three 8-week sessions included in this award period – March, April, and May.
He also received the largest number of student course evaluations and based on those evaluations, he attained the highest average for quality of instruction, and second highest average for faculty-student interaction.
Dr. Pieffer, who assumed his current role on July 1st, is a 23-year veteran of the United States Army, serving as an Airborne Ranger Infantry Officer, before retiring as a Lieutenant Colonel. Since his retirement he has worked at the University Level serving as an Adjunct Professor, a Full Professor, University Dean, Chief Academic Officer, and Campus President.
He is passionate about working with adult students, and admires those who are able to balance family, career, and university course work. Dr. Pieffer earned a Doctor of Management degree from Colorado Technical University, M.A. in Psychology from University of Richmond, and a B.A. in Psychology from Central State University of Ohio.
Trident, a 100% online university that has been in operation since 1998, is regionally accredited by the WASC Senior College and University Commission (WSCUC). Active duty military, veterans, National Guard, and military dependents make up 79% of the University's student population, and Trident is proud to employ many veterans at its faculty, staff, and management levels. Of Trident's 32,000 alumni, more than 27,000 have a military affiliation.
About Trident University 
Founded in 1998, Trident University International (Trident) is a leading online post-secondary university serving adult learners. Trident developed the Trident Learning Model, which employs case-based learning in an online setting to teach real-world relevant critical thinking skills to enhance student's lives and careers. Trident offers high-quality bachelors, masters, and doctoral degree programs, led by a qualified faculty team, over 80% of whom have doctoral degrees. Visit www.trident.edu, Trident's Facebook page, or call at to learn more about Trident's wide range of program offerings.