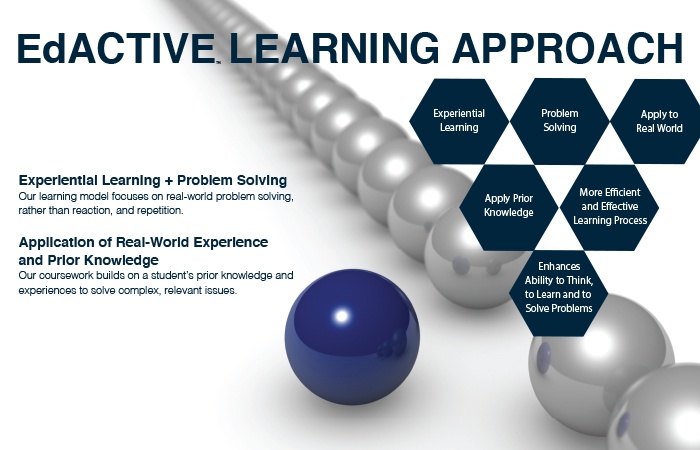 November 30, 2017 – Cypress, CA – The mission of Trident University International (Trident), a pioneer in online education, is to provide its students with an exceptional learning experience. Throughout its nearly 20-year history, it has challenged students with learning opportunities that promote critical thinking and problem solving.
Trident delivers a unique, EdActive™ Learning Approach that actively engages the student with course content. It creates a meaningful learning experience that asks students to consider how content relates to current or future problems they may encounter in the workplace.
The EdActive™ approach is designed to take learning beyond textbooks and tests, by using real world experience to yield a student who is better prepared for today's workforce demands. Trident's approach to learning is based on building students' problem solving and critical thinking skills, promoting clear communication, and engaging them in tackling complex issues.
At Trident, growth will occur from course to course, as critical thinking and confidence to tackle real-world and interconnected matters are enhanced.
Dr. Mihaela Tanasescu, Trident's Provost and Chief Academic Officer
Trident's professors come from a variety of backgrounds – academia, the business world, military, and more. The diversity of these experiences has been a key driver in the success of this learning approach.
The EdActive™ Learning Approach, along with flexibility and affordability, make up Trident's three key differentiators. It is Trident's unique combination of these three factors, delivered with a commitment to student success which has made Trident stand out in the higher education online learning space. Trident treats students as adults with a learning approach that aims to help them develop marketable skills as they move toward graduation.
About Trident University 
Founded in 1998, Trident University International (Trident) is a leading online postsecondary university serving adult learners. Trident uses the EdActive learning approach, which employs case-based learning in an online setting to teach real-world relevant critical thinking skills to enhance the lives and careers of students. Trident offers high-quality bachelors, masters, and doctoral degree programs and certificates, led by a qualified faculty team, over 80% of whom have doctoral degrees. Trident is regionally accredited by the WASC Senior College and University Commission (WSCUC) and has over 32,000 alumni, including more than 27,000 with a military affiliation. The University has received multiple acknowledgements from Military Times, Victory Media's Military Friendly Schools, and Military Advanced Education & Transition for their dedication to military-affiliated students. Visit www.trident.edu, Trident's Facebook page, or call at to learn more about Trident's wide range of educational options.