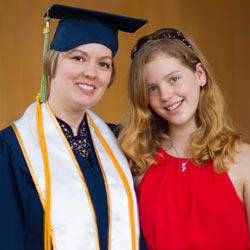 October 31, 2016 – Cypress, CA – Trident University International (Trident) alumna, retired Navy Chief Petty Officer Holly Katke (Class of '16, Bachelor of Science in Health Sciences), had a busy summer. In addition to completing her undergraduate degree, she spent time working at the Mote Marine Research Laboratory in the Florida Keys. She attended Trident's graduation ceremony this year in Long Beach, CA.
Katke, who is legally blind, walks with a cane, and has difficulty with her memory, was shot in the head by a sniper's bullet in 2010 while on a joint Navy SEALs/Army Special Forces operation in Iraq. The wound was near fatal, and she earned a Purple Heart for her heroism.
She retired after 14 years of service, further earning the Navy and Marine Corps Commendation Medal and the Navy and Marine Corps Achievement Medal.
"Despite her challenges, Katke was a very good student in Trident's BSHS program and is the living embodiment of 'Trident Strong.' Staff and faculty have been very understanding of her situation, and have been been willing to help her at each step along the way," said Dr. Nathaniel Ofoe, Professor, College of Health and Human Services.
In July, she took part in the weeklong Combat Wounded Veteran Challenge for coral restoration efforts at the Mote Marine Research Laboratory in the Florida Keys. She hopes to return to Mote in the future for an internship that will help achieve her next goal – a career that will benefit the planet.
Katke is currently enrolled in Trident's Master of Science in Health Sciences program. Watch a video about this amazing woman here.
Trident, a 100% online university that has been in operation since 1998, is regionally accredited by the WASC Senior College and University Commission (WSCUC). Active duty military, veterans, National Guard, and military dependents make up 79% of the University's student population, and Trident is proud to employ many veterans at its faculty, staff, and management levels. Of Trident's 32,000 alumni, more than 27,000 have a military affiliation.
About Trident University 
Founded in 1998, Trident University International (Trident) is a leading online post-secondary university serving adult learners. Trident developed the Trident Learning Model, which employs case-based learning in an online setting to teach real-world relevant critical thinking skills to enhance student's lives and careers. Trident offers high-quality bachelors, masters, and doctoral degree programs, led by a qualified faculty team, over 80% of whom have doctoral degrees. Visit www.trident.edu, Trident's Facebook page, or call at to learn more about Trident's wide range of program offerings.