John Jenkins
Class of 2014 / 2012 / 2010 - Trident Triple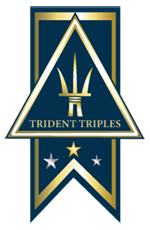 Currently, Jenkins manages all future medical care recovery for the Division of Secondary Payer Operations at the Centers for Medicare and Medicaid. Concisely, we ensure that Medicare does not make any future payments for care that should have been covered by another insurance carrier.
He joined Medicare directly from his sixth activation as a Naval Reservist.
I received a set of orders sending me overseas and I decided I needed to come back with a degree. I began searching for programs that I could finish remotely, were regionally accredited, and provided a schedule that I could meet while operating as the senior enlisted for all clinical operations at a 65 bed trauma center in Afghanistan. Trident offered me all of that. Fifty-two credit hours later, and before I left Afghanistan, I could finally say I was a graduate.
The education I received at Trident, coupled with my experience has made me a much more versatile employ at Medicare. I am regularly asked questions that are outside the scope of my position, simply because others recognize my understanding of healthcare operations or clinical healthcare.