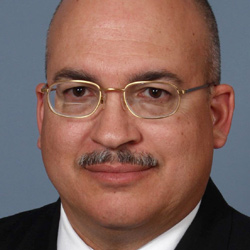 Part-time Faculty - College of Health and Human Services
Dr. David Alegre is a faculty member in the College of Health and Human Services. His childhood hometown, where he again lives, is near Prescott, Yavapai County of northern Arizona. He served in the Army for 30 years, spanning the post-Vietnam Cold War era and the present Global War on Terror. He served on staff in mechanized infantry, light infantry, and special forces units and a defense agency; and commanded Chemical Corps and psychological operations units. Dr. Alegre's Army service was in locations including Colorado, Texas, Alabama, Alaska, North Carolina; Northern Virginia / Washington, D.C. area, Hawaii, Turkey, Korea, Panama, Haiti, Ukraine, Kazakhstan, Bosnia, Kosovo, Antarctica, Iraq, and Afghanistan. He retired in 2004 and again in 2012 after being recalled into service.
Dr. Alegre is also a Faculty Lead in Columbia Southern University's College of Business, and is retired from Battelle Memorial Institute, where he was a contractor in support of the Departments of Defense and Homeland Security. His civilian education includes a Bachelor of Science degree from the United States Military Academy at West Point, a Master of Science degree in International Relations from Troy State University, a Master of Business Administration degree from Liberty University, and a Doctorate of Management in Organizational Leadership from the University of Phoenix. He pursued that particular doctorate to further his own understanding and growth in the field of leadership/management of governmental and institutional organizations.
Dr. Alegre's volunteering activities are with Civil Air Patrol for search and rescue (back in uniform again), and the Sharlot Hall Museum as portraying a 19th century Army lieutenant colonel stationed at Fort Whipple, Arizona.
I just wish we could learn all together in person; but our online venue makes the learning possible at all Dr. David Alegre
Programs
Bachelor of Science in Health Sciences
Bachelor of Science in Homeland Security
Master of Science in Homeland Security
Publications
Alegre, D., and Iwamoto, D. (Unpublished). A Phenomenological Study of U.S. Army Soldiers' Cross-cultural Communications Experiences.
Military Status
Status: Veteran
Branch: Army
Rank: Lt. Colonel
Years: 1981-2004; 2006-2012
Accolades :

Legion of Merit
Bronze Star (2 awards)
Meritorious Service and Commendation Medals
Ranger Tab
Master Parachutist Badge
Combat Action Badge
Associations
Civil Air Patrol (U.S. Air Force Auxiliary) (2013 - present)
Areas of Expertise
Dr. Alegre's areas of expertise include:
Organizational leadership and management
Public speaking and public communications
Weapons of Mass Destruction attack strategies and defenses
Land warefare
Emergency services
Extreme high altitude and polar envioronment and studies
History
Education History
D.M. in Organizational Leadership - University of Phoenix (2012)
M.B.A. - Liberty University (1993)
M.S. in International Relations - Troy St. University (1992)
B.S. (general) - U.S. Military Academy at West Point (1981)
Honors & Awards
U.S. Army Chemical Corps Association Order of the Dragon (2003) / Ancient Order (2005)
U.S. Army Artillery / Air Defense Artillery's Order of Saint Barbara (2010)
3rd U.S. Cavalry's Order of the Combat Spur (2011)
Induction into Delta Mu Delta international business honor society (2012)