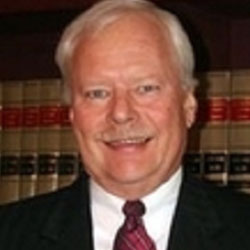 Part-time Faculty - University College
Paul Amundsen has practiced law in Florida for over 35 years, primarily representing business and industry. His practice focused on environmental law, health care law and, generally, government regulation. His career includes partnerships both large and small law firms. In 1992, he founded and for almost 20 years ran his own law firm in Tallahassee, Florida. An accomplished litigator and an authority on expert witnesses and expert testimony, Mr. Amundsen has appeared as lead counsel in dozens of cases before administrative tribunals, state court, and federal court. He has briefed and argued numerous appeals in state and federal courts.
In 2013, Mr. Amundsen relocated to the mid-Atlantic to become regulatory counsel for the largest petroleum refinery on the eastern seaboard. There he handled all legal matters involving government agencies, most notably matters relating to the environment, health and worker safety and corporate social responsibility.
For almost 25 years, Mr. Amundsen has been rated "AV" by the Martindale-Hubbell Legal Directory, a distinction enjoyed by fewer than ten percent of attorneys. It is the highest possible rating reflecting preeminent legal ability and and the highest ethical standards determined through confidential surveys of lawyers and judges. In 2007, Mr. Amundsen was one of the first Florida attorneys to be Board Certified in State and Federal Government and Administrative Practice. He has been a frequent speaker on environmental and administrative law issues and is regarded as an authority on the use and examination of expert witnesses. He is also experienced in professional ethics, having served on the Florida Bar's Grievance Committee for the Second Judicial Circuit investigating allegations of attorney misconduct. More recently he served as ethics advisor to a prominent statewide law firm.
Mr. Amundsen received his B.A. degree from Elon University with a double major in Religion and Social Science. At Elon, he lettered in varsity baseball. He received his J.D. degree, cum laude, from the Florida State University College of Law. He was Articles Editor for the FSU Law Review.
Before law school, Mr. Amundsen worked in law enforcement for six years. He was a police officer for the Metropolitan Police Department, Washington, D.C. and then a Special Agent for the Florida Department of Law Enforcement.
One of the truisms about government regulation is that it grows and seldom, if ever, diminishes. Fortunately, the power of the executive branch is limited by statutes enacted by elected lawmakers. For the same reason, executive agencies commonly construe statutes as broadly as possible and at odds with what lawmakers enacted. For over three decades, Paul Amundsen has been a defender of businesses, industries and citizens faced with government excesses and overreaching. At the same time, he counseled his clients to assure compliance with the law. More recently, he was in-house regulatory counsel for the largest petroleum refinery on the eastern seaboard, faced with myriad issues related to health, safety, the environment and corporate social responsibility. Along the way, his body of experience has exposed him to many subjects. An accomplished litigator and a skillful advocate both written and oral, his work required him to master laws, policies and facts, often involving complex, technical or scientific issues.
Today, he and his wife Jean live in northern Delaware in the company of two cats and two retired greyhounds. He loves all sports but especially baseball. He likes fast cars, shoots pool, golf, and has attended dozens of rock concerts. His pleasure reading is mystery or spy stories. His non-fiction choice is military history. He loves working with words and seldom loses at Scrabble. He loves to teach. One of his great pleasures is hearing from attorneys that he once mentored as new law graduates and are now accomplished, successful practitioners.
Every day is a gift. Make the most of it.
Programs
Bachelor of Science in Business Administration
General Education
Presentations
July 2011, Tallahassee, FL Florida Bar Webinar "Standing Since Agrico Under Chapter 120, Florida Statutes" (Joint presentation with Administrative Law Judge John D.C. Newton).
June 2011, Orlando, FL Air & Waste Management Association International Conference Panelist: "Regulation of PM - 2.5".
February 2011 Division of Administrative Hearings Annual Seminar for Administrative Law Judges "Expert Witnesses and Testimony".
April 2010, Tallahassee, FL Florida Bar: Basic Administrative Law "Getting In the Door; Point of Entry Window; Waiver".
October 2009, Tallahassee, FL Florida Bar: Practice Before the Division of Administrative Hearings "Expert Witnesses: Selection, Preparation and Examination".
October 2008, Tallahassee FL Florida Bar, Patricia A. Dore Administrative Law Conference "Agency Action on Recommended Orders".
November, 2007, Tallahassee, FL Florida Bar: Practice Before the Division of Administrative Hearings "Expert Witnesses: Preparation and Examination".
October 2006 , Jacksonville, FL Florida Air & Waste Management Association "Legal Defense Update – Lawsuits Under the Clean Air Act".
April 2006, Tallahassee, FL Florida Bar: Administrative Appeals "Appellate Attorney's Fees on Judicial Review of Administrative Orders".
Areas of Expertise
Mr. Amundsen's areas of expertise include:
Government
Environmental Law and Regulation including Environmental Federalism
Health Care Law and Regulation
Energy Law
Employee Safety Regulation
Transportation Law
Ethics and Professional Responsibility
Constitutional Law including, generally, the Supreme Court and Separation of Powers
First Amendment Freedom of Speech, Press, Religion, Assembly and Right to Petition the Government
Fourth Amendment Law of Search and Seizure
The Establishment Clause, Commerce Clause, Supremacy Clause, Due Process Clause and Equal Protection Clause
Business Law, including Uniform Commercial Code, Business Associations, Securities Regulation
Clean Air Act, Climate Change, Hazardous Waste and Substances
U.S. history
Education History
Juris Doctor - Florida State University College of Law
B.A. in Religion and Social Science - Elon University
Honors & Awards
AV Rated, Martindale-Hubbell Legal Directory
Board Certified, State and Federal Government and Administrative Practice