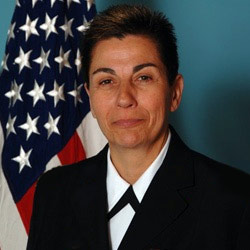 Part-time Faculty of Business - Glenn R. Jones College of Business
I am currently a Professor at Trident University International (CA) and Salve Regina University (R.I.), teaching courses related to Information Technology Security, Information Technology Management, Systems Development, Advanced Persistent Threats, Cyber Threat Analysis, and Cyber Threat Management. I was a member of the Rhode Island Army National Guard for over 38 years and also worked in the information technology arena for 32 years as a full time Federal technician for the R.I. Army National Guard, Department of Defense. During this time I developed strong leadership, analytical, technical, and organizational skills.
I retired as a Chief Warrant Officer 5, serving as the Information Assurance Manager/Local Area Network Manager, Registration Authority, and COMSEC technician in Rhode Island and I also served as the Command Chief Warrant Officer for the state command. My highest military awards are the Legion of Merit, Meritorious Service, and the Rhode Island Star.
I graduated from Trident University International in 2011 with a Ph.D. BA with a concentration in Information Technology Security. I was published in the ACM SIGMIS in 2008 and 2012 and co-wrote a chapter in Cyber Security and Global Information Assurance (2009). I am on a mission to educate students and citizens on how to protect their personal and professional identify in this highly technical and evolving world we live in.
I worked for the Department of Defense for over 32 years and specialized in communications security, classified and non-classified network management, and all areas of information technology security and assurance. As a technical expert in my assigned information mission area, I managed multiple networks, designed network topology for state-of-the-art infrastructures, performed in-depth analysis of existing information technology systems, and provided remote access capabilities to the installations wide area networks (WAN). I was responsible for the Defense Information Assurance Certification and Accreditation Process (DIACAP) of the multiple networks, including classified and non-classified LANs and WANs. I was also responsible for the Information Assurance Vulnerability Assessment (IAVA) compliancy for the classified and non-classified WANs. An additional duty was to develop training programs and train all personnel in information security and ensure all users completed their yearly training requirements in information assurance. I assisted and supported the U.S. Army, state and city law enforcement, and the FBI Computer Emergency Response Teams (CERT).
I possess extensive experience and proficiency in information assurance vulnerability assessments (IAVA) and patch/update management; MS Windows OS, MS Office, Adobe, Structural Equation Modeling (SEM) with Lisrel, PASW (formerly SPSS), Lotus forms, and extensive knowledge in PC hardware and software upgrades, rebuilds, and networking.
I have been a professor at Trident University International since 2011 teaching numerous courses related to information technology security at the undergraduate, graduate, and post-graduate level.
I have been a professor at Salve Regina University since 2012 teaching courses in cyber threat analysis, cyber threat management, and advanced persistent threats at the graduate level. I developed the courses for on-line and lecture under the Homeland Security and Administrative Justice division.
I received my PhD at Trident University in 2011. It was an experience that I will forever cherish. It was challenging and exciting. I understand the difficulties and challenges that online students face in completing their courses and degrees. It is my goal to deliver a high quality, online education so that students can achieve their goals and receive the education they pursue. Dr. Carole Angolano
Programs
Bachelor of Science in Computer Science
Bachelor of Science in Information Technology Management
Master of Science in Information Technology Management
Ph.D. in Business Administration
Publications
ACM SIGMIS in 2008
ACM SIGMIS in 2012
Cyber Security and Global Information Assurance (2009) (Co-author)
Military Status
Status: Retired, U.S. Army
Branch: U.S. Army
Rank: Chief Warrant Officer 5
Years: 38
Accolades: Legion of Merit, Meritorious Service Medal, Rhode Island Star
Honors & Awards
Legion of Merit
Meritorious Service Medal
Rhode Island Star
National Guard Bureau Minuteman Award
Areas of Expertise
Dr. Angolano's areas of expertise include:
Cyber threat analysis
Cyber threat management
Advanced persistent threat analysis
Information technology security
Information technolofy management
Systems developer and design
Information assurance
Digital forensics
Education History
Doctorate in Business Admin: Criminal Justice
Masters in Criminal Justice
BS in Criminal Justice
1600 + hours in professional criminal justice / law enforcement training