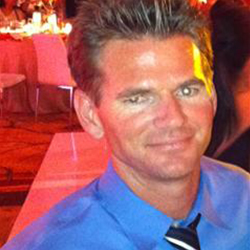 Part-time Faculty - Glenn R. Jones College of Business
Dr. Aubry has taught introduction to business, business communication, entrepreneurship, and various economics, management, and business related courses. He holds a bachelors degree from San Diego State University, a Masters degree from National University, as well as a Doctorate in Business Administration at Alliant International University. Dr. Aubry's dissertation studied the relationship between culture and the adoption of innovative golf products. He has served on the Business Education Statewide Advisory Committee for the past three years. During this period, he oversaw mini-grants, worked on collaborative topics with faculty throughout the state, and created new curriculum with a focus on social media and sustainable business. Dr. Aubry also served in the United States Air Force, and has worked in the field of accounting and finance. He continues to do consulting with small universities and colleges in the greater Southern California area to ensure they are meeting accreditation requirements.
Historically, Dr. Aubry has assisted other schools to obtain status as nationally accredited universities. He was responsible for financial management, marketing, online platform creation and management, promotions, SLO development and assessment, course outlines, curriculum development, faculty recruitment, student assistance, database tracking, self-study preparation, committee formation, and institutional effectiveness planning. Dr. Aubry has extensive experience editing and revising documents using standard operating software, while also using collaborative technologies ensuring proper documentation and tracking. With his guidance and direction, several schools have started new undergraduate programs, and have seen their MBA program grow from five to one thousand students.
At Trident University, the virtual doors are always open to create an opportunity for your future. Dr. Michael Aubry
Change is not a threat, it's an opportunity. Survival is not the goal, transformative success is. Seth Godin
Programs
Bachelor of Science in Business Administration
Presentations
Aubry, M., "How to Apply for a Mini-Grant. " Business Industry Collaborative, 3rd Annual Meeting, Sacramento, CA, April 19-21, 2012.
Aubry, M., "Associate Degree in Business Social Media." Business Industry Collaborative, 2nd Annual Meeting, Sacramento, CA, April 19-21, 2011.
Military Status
Status: Veteran
Branch: USAFR
Rank: SSGT
Years: 6
Areas of Expertise
Dr. Aubry's areas of expertise include:
Marketing
Finance
Leadership
Management
Economics
Education History
DBA in International Marketing - Alliant International University (2012)
MBA - National University (2005)
B.S. in Finance - San Diego State University (2002)